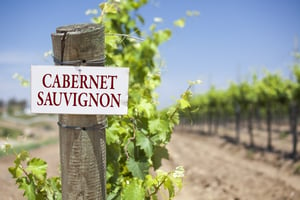 There is probably no wine more popular around the world than Cabernet Sauvignon.
With roots in France and explosive prevalence in the New World winemaking powerhouse of California — as well as Argentina, Australia, Chile, Italy, and South Africa — it's for good reason that they say in the wine world, "Cab is king." Don't know what that means? It's a good thing you're here: we'll tell you everything you need to know about this deliciously popular red wine.
A Brief Overview of Cabernet Sauvignon's History
Travel back to 17th-century southwestern France to find the roots of this red wine. (To be precise for all the wine nerds reading this: the Médoc region, including Chåteau Mouton and Chåteau d'Armaihac.)
Thanks to fancy DNA testing in the past two decades, it was discovered that Cabernet Sauvignon is the lovechild of vines Cabernet Franc and Sauvignon Blanc. Good qualities combined by the 18th century (or earlier) to create a new, optimized grapevine.
Now, here's something important to what the experts call viticulture, the science and production of grapes: there are several factors that make certain grape varietals more distinct and desirable. Of course, of chief concern is taste. Second, how well can the grapes grow in a given area? Third, how resistant are these vines to insects, rot, and tough conditions? And fourth, how effectively can these grapes be cultivated?
Yes, that's a lot more complex than lazily sipping on a juicy red Cabernet on your day off. But it's all worth it — and it all plays into why Cabernet Sauvignon is so popular today.
What Does Cabernet Sauvignon Taste Like?
For most of us, the one thing we want to know about Cab Sauv is this: Does it taste good? Well, each person has different preferences, but here are some details that make the red in your glass an easy-to-find, quality wine.
Cab Sauv is typically full-bodied with lots of rich fruit flavor. Think dark: black cherry, blackberry, and black currant. Sometimes, you'll pick up notes of vanilla and licorice to tobacco and black pepper. As you can tell, there's a wide range to experience.
You'll find Cabernets have medium tannins and medium acidity, which means it's a just-right territory for wine drinkers who want something lively on the palate yet not too intense or sharp. The color is generally deep red into purple and violet.
These factors are even more diverse when you find Cabernet Sauvignon blended with other wine types.
Foods to Pair With Cabernet Sauvignon
There is a wide variety in how a particular Cabernet Sauvignon will taste with different foods, so it's key to know what region in the world a bottle comes from.
Some people describe Cab Sauv as velvety, soft, silky, oaky, or smooth. So think of foods that complement or match those textures.
Fire up the grill. Enjoy a glass of this red wine with red meats, like a savory burger topped with your favorite gourmet cheese. Or explore the gamey, spiced tones of grilled lamb kabobs with olive oil-dripping peppers and onions to match the robust flavors of a big Cab Sauv.
You can go for a big, juicy occasion — pairing it with a nice peppered steak or garlic-laden tomato sauce and pasta. Don't forget the buttery bread on the side.
Prefer to head in a funkier direction? Try a mushroom-based sauce over thick pasta and pair with one of the Cabernet Sauvignons that lean into earthy territory.
All in all, you can't go wrong with Cabernet Sauvignon. Pick up a bottle or three at your local Haskell's, and you're well on your way to a delightful dinner pairing or everyday red wine.