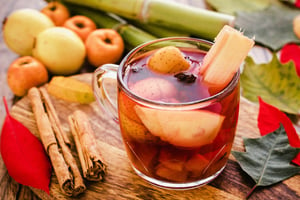 Do you know about the "Spirit of Spain?"
"Spain has a spirit?" you ask. "I thought it was only superb Rioja reds and Albariño white wines, with the occasional vermouth."
All great Spanish choices, but there's more: Ponche Caballero.
If you haven't yet discovered the glory that is Caballero liqueur, don't fret. Many of us here in Minnesota and around the United States are late to the Caballero party, so we're here to invite you.
What is Ponche Caballero?
In Spain, this spicy and sweet liqueur is iconic. It's created from a blend of Spanish brandy, orange peels, cherries, grapes, cinnamon, clove, nutmeg, and vanilla. Some herald its complex almond-y tone among dried fruit notes. It's an elegant addition to your liquor cabinet, and Ponche Caballero Spanish liqueur doesn't even have to be that hard to find.
This exotic beverage is full of allure, romance, history, and punch. What does Ponche Caballero actually mean? Ponche means punch – and caballero is the Spanish word for knight and gentleman.
The history of Ponche Caballero
Ponche Caballero is an original artisan liquor. The story goes that in 1830, José Caballero was stirred by the exotic tastes of the Spanish city of El Puerto de Santa Maria. It was at this world-class commercial port that fruits, spices, and other products made their way to shore. Along with its unique and strategic location, the city was ample inspiration for José to devise the recipe for the Caballero liqueur.
It was first made exclusively for the Caballero family and friends, but in 1944, due to its sweeping popularity, José Caballero started the family business and named it after his first-born son, Luis Caballero S.A.
So, why is it so popular now? Well, what's old is new, and this intense, sweet, and spicy drink is perfect for Minnesota's changing seasons – especially fall.
Enough of the history lesson. Let's pour a drink or three.
What kind of cocktails can you make with Caballero Liqueur?
Here are a few Caballero recipes you'll want to master and impress your guests. These are definite winners, and quite simple at that.
Caballero Sunrise
Ingredients:
2.5 oz. Ponche Caballero
5 oz. orange juice
3 dashes of Grenadine syrup
orange twist garnish
How to make a Caballero Sunrise:
Add the ingredients into a tall glass with 5 pieces of ice.
Stir concoction carefully with a spoon.
Garnish with an orange twist.
Caballero Margarita
Ingredients:
How to make a Caballero Margarita:
Dip the margarita glass rim into a plate of lime juice, then dip the rim into a plate of salt.
Put the ingredients into the shaker with some ice cubes.
Shake well, and pour the blend into the glass using a strainer.
Caballero Cosmo
Ingredients:
5 oz. Vodka
.75 oz.

Ponche Caballero
1.5 oz. cranberry juice
1 oz. fresh lime juice
How to make a Caballero Cosmo:
Cool down a martini glass with some crushed ice.
Pour the ingredients into the shaker with some ice cubes and shake well.
Throw away the ice from the glass and pour the blend inside using a strainer.
Caballero Old Fashioned
Ingredients:
2 orange wedges
2 dashes of cherry syrup
2 dashes orange bitters
2 oz. Ponche Caballero
Splash of soda water
Orange twist garnish
Candied cherry garnish
How to make a Caballero Old Fashioned:
Mash the orange pieces gently using a muddler.
Add the ice cubes, syrup, bitters, Caballero, and top with soda.
Stir smoothly, and garnish with an orange twist and candied cherry.
Caballero Libre
Want a Spanish twist on the Cuba Libre? It couldn't be any simpler.
Ingredients:
How to make a Caballero Libre:
Pour the ingredients into a tall glass.
Add ice and stir.
El Toro Sangria
Ingredients:
.75 oz. Ponche Caballero
3 oz. red wine (we recommend a lively Spanish rioja/red wine)
1 oz. orange juice
Lime, orange, and apple wedges
How to make an El Toro Sangria:
Add the ingredients into a wine glass filled with ice cubes.
Stir gently.
Garnish with lime, orange, and apple wedges.
Now you know how to use Ponche Caballero in a variety of ways, so have some friends over and take them on a tasty tour of this delightful liqueur.