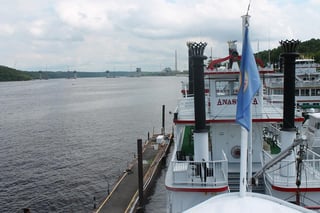 All aboard! Imagine a leisurely cruise along the stunning St. Croix River on a beautiful charter boat while sipping from an array of specially curated wines and beers. You can do this, by attending one of Haskell's Summer Boat Cruises!
Backstory of the Booze Cruise
The Haskell's Summer Boat Cruise first came about 22 years ago as a way to say thank you to Haskell's Bacchus loyalty members. At the time, it was solely a beer cruise and there was only one cruise a year, which took place on a Wednesday out of Minneapolis. But due to it's tremendous success and growing demand, we decided to open up the cruise to all of Haskell's loyal customers.
We added a second cruise eight years ago, and then a third seven years ago. Over the past several years the cruises have taken place all around the metro, until we soon determined Stillwater was the ultimate hot spot! This year, all three summer cruises are on the St. Criox River in Stillwater.
What to Expect During the Cruise
We work hard to put together an exceptional afternoon on the water that's perfect for a couples date, double date, or afternoon away from the city. This is an adult-only afternoon that allows you to sample more than 50 different wines, as well as 50 different beers over the course of the three-hour cruise. There are typically a couple dozen wine and beer stations set up, along with treats from The Big Cheese and a provided lunch. Not only can you enjoy a variety of Haskell's products on the cruise, you can purchase some of your favorites from the day for at a special price!
Join us in Stillwater!
Miss the last boat cruise? You're in luck! There are still two more happening during the summer of 2017.
Haskell's Annual Summer Boat Cruise:
Dates: Saturday, July 29 & Saturday August 26
Time: 12:00pm - 3:00pm
Lunch will be served mid-cruise
Sample over 50 different wines and 50 different brews while enjoying the scenic St. Croix River Valley!
Location:
The Haskell's Summer Boat Cruise will be aboard a beautiful riverboat from the company that was named best cruises, boats, charters of 2016. It's just a 35-minute drive from the Twin Cities to historic Stillwater. Free parking while you cruise!
Boarding begins at 11:30am.
Boat departs at 12:00pm SHARP and will return promptly at 3:00pm.
*We will cruise rain or shine.
Cost:
For the July 29th cruise, there will also be a charter bus leaving from our Haskell's Faribault store for an additional $25 per person.
So, enjoy the view, sip a few, have some lunch and spend the day with us for Haskell's 2017 Summer Boat Cruise. Purchase your tickets now!