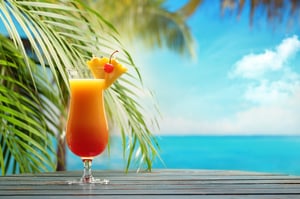 You've been waiting all winter for the chance to escape the routine of work/school, eat, sleep, repeat. Even if you're not taking a trip to a stunning island or far away destination for spring break, now is your chance to bring some tropical flavor home.
Here are the best beach drinks to make for your staycation.
Tropical Sangria Cocktail Recipe
Start vacation nice and easy with a colorful drink like this tropical sangria. Turn off those pesky email notifications and let your worries drift away on the imagined sea breezes of spring break. This recipe makes four servings.
Ingredients:
1 cup dark rum
3 cups white wine
1 cup pineapple juice
1/2 cup passionfruit juice
1 lime slice for garnish
2–3/4 cups of chopped tropical fruit (we recommend pineapple, tangerines, mango, and kiwi)
How to make four Tropical Sangria cocktails:
Pour all ingredients in a large serving bowl or pitcher.
Stir them together.
Chill mixture in refrigerator for 2–4 hours.
Serve over ice.
Mojito Cocktail Recipe
Continue on your quest for the with a classic for warm weather: the trustworthy mojito that will never let your taste buds down.
Ingredients:
2 oz. white rum
3/4 oz. lime juice
1 oz. simple syrup
1/2 oz. club soda, chilled
8 mint leaves, plus a sprig for garnish
Ice
How to make a Mojito cocktail:
Muddle the mint in your cocktail shaker.
Pour rum, lime juice, simple syrup, and ice into shaker.
Shake thoroughly and strain the mixture into a Collins glass filled with ice.
Add club soda, stir gently, and add the mint sprig garnish.
Gone Native Cocktail Recipe
Head off the edge of the map with this Gone Native cocktail, a virtual bouquet of tropical freshness. Best enjoyed in the final moments of sunset.
Ingredients:
1–1/2 oz. London dry gin (we recommend Tanqueray)
1/2 oz. Pimm's No. 1
1/2 oz. lemon juice
1 oz. guava juice
1 oz. apple juice
1 tsp. simple syrup
4 mint leaves plus a sprig for garnish
1 guava slice for garnish
Ice
How to make a Gone Native cocktail:
Pour all ingredients — except ice, mint sprig, and guava slice — into a cocktail shaker.
Add ice and shake thoroughly.
Strain the mixture into a Collins glass filled with ice.
Add mint sprig and guava slice garnish.
In-Sandíary Cocktail Recipe
Add spicy spirit to your spring break with this incendiary twist on sandía — the Spanish word for watermelon. Bonus upgrade to make this In-Sandíary truly one of the best drinks: use reposado tequila instead of blanco.
Ingredients:
2 oz. blanco tequila
2 oz. watermelon juice
1/2 oz. lime juice
1/4 oz. simple syrup
1 tsp. ancho chile powder
1 tsp. kosher salt
1 tsp. sugar
1 lime
Ice
How to make an In-Sandíary cocktail:
Mix ancho chile powder, kosher salt, and sugar in a small bowl.
Use a lime wedge to wet the rim of a highball glass.
Dip the glass in the chile salt bowl to coat the rim.
Add remaining ingredients and ice to cocktail shaker, and shake thoroughly.
Fill the highball glass with ice and strain the mixture into it.
Now that you know the best beach drinks, a staycation might be one of your new favorite seasonal traditions. Happy spring break!