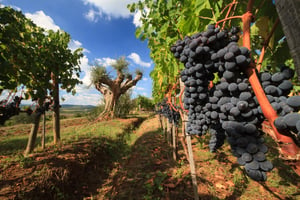 When you start paying attention to wine, you'll hear a lot about certain wine regions — and when you pay attention even longer, you'll hear about two gems from Italy: Barolo and Brunello.
They may not be name-dropped as much in American restaurants and some shops, but you can bet Barolo and Brunello are a recurring topic of recommendation when you're looking at high-quality wines, especially from the Old World (classic European wine regions).
Here's what you should know about both varietals.
An Introduction to Barolo Wine
Barolo is a wine from the Piedmont region of Italy, in the northwest, near Milan. The grapes in Barolo wine are called Nebbiolo, a small red grape with thin skin that has lots of tannins and acidity, making this a rich, full-bodied red wine.
Nebbiolo grapes get better with age, so you might see a label "Riserva" on some bottles. That means it's been cellared for at least five years, so it gets to you closer to its optimal tasting time. Prepare to cellar this one for a while; drink your Barolo between 10 and 25 years for optimal taste.
Barolo wine is known for flavors ranging from floral cherry and raspberry to cinnamon, and age your bottles to bring out complex tones of chocolate into black licorice and leather. Though it may look pale in color, the astringent tannins and acidic presence will feature prominently in your glass.
Fair warning: Barolo is a middle to high price range, which may be more than many casual drinkers: think $80–$120 per bottle. Some bottles cost hundreds of dollars. For you, it may be a common budget item or more like a special occasion drink. Either way, you're in for a superb bottle of wine when you choose Barolo.
Getting to Know Brunello Wine
Brunello wine uses Sangiovese grapes, a common red grape in Italy. It's especially prominent in Tuscany, where you'll find plenty of Brunello di Montalcino to satisfy your wine wishes. Centrally located in Italy, Tuscany is one of the most popular regions in the world for the rolling hills, old castles, and endless agricultural delights — including wine.
Brunello is known for flavors of sour cherry, red pepper, oregano, dark fruit, and violet. Aged, it will offer espresso, fig, and leather notes. You'll notice Brunello is typically much darker red than Barolo, and the juicy, spicy qualities will stand out as well.
Like Barolo, Brunello wine is aged for six years and labeled as "Riserva." Also like Barolo, its flavors reach their peak between 10 to 25 years of cellar life, so stay patient and set a reminder to enjoy this fine wine.
Bottles of Brunello usually cost $50–$85, but don't feel like you have to be a fancy person to enjoy this decadent wine.
What Food Pairs Well With Barolo and Brunello Wine
When it comes to big, structured Barolos, think savory and strong: charcuterie and hard cheeses, risotto with earthy truffle mushrooms, big peppered steaks, and even game birds like duck and pheasant. The fatty, rich dishes will complement the bold flavors and hearty tannins in Barolo.
For Brunello di Montalcino, seek foods that come to mind when you think of classic Italian dining: heaping plates of pasta with red sauce, lots of olive oil and vinegar, and herbal tomato-based dishes. The spice of Brunello wines will offer a surprisingly delightful match to these big, satisfying meals.
Ready to try for yourself? Find high-quality Barolos and Brunellos at your local Haskell's and bring home the best Italian wine has to offer.