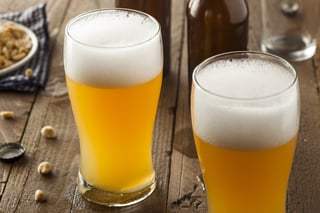 Beer enthusiasts will want to stock up on their favorite brew for April 7. That's National Beer Day. But before we get to the 7th, we need to get through the 6th, with New Beer's Eve. Yes, that's a thing, and it's been celebrated for more than 80 years. We're just full of stuff about suds (it's our business, after all), so get ready to impress your friends and beer buddies with this 12-pack of fun facts about beer.
Did You Know?
April 6 is known as New Beer's Eve, because it celebrated the beginning of the end of Prohibition in the United States on this date in 1933.
Sales of 3.20% beer in the U.S became legal on April 7, 1933, as a result of the Cullen–Harrison Act.
5 million barrels of beer were consumed on that first day (April 7, 1933 – perhaps the first unofficial National Beer Day).
President Franklin D. Roosevelt made his famous remark, "I think it would be a good time for a beer" after signing the legislation ending Prohibition.
The economic impact of beer in the United States totals more than $252 billion (2014).
More than 1.75 million Americans are employed in the beer industry.
The World's Strongest Brew comes from Scotland: Brewmeister Snake Venom, at a whopping 67.5% ABV (keep in mind, most beers average around 5% ABV).
What will $1,000 buy you? ONE bottle of Belgian Vieille Bon Secours Ale, the world's most expensive beer.
In Norse mythology, Viking warriors were greeted in Valhalla by a goat who produces mead. Okay, mead is NOT beer, but it's a relative.
The first straws discovered were made to drink beer.
A beer-lover who collects beer bottles is a labeorphilist or labeorphile.
Three cheers for beer!
Founded in 1934, Haskell's has championed fine wines for over 80 years. We have 13 wine stores in Minnesota, two delis and one restaurant. As one of the top wine shops in North America, Haskell's is known for legendary service and one of the finest collections of wine, beer and spirits. Led by Chairman and CEO Jack Farrell, and the Farrell family, Haskell's continues to be at the forefront of the wine scene throughout the world. Haskell's also can ship wine, beer & spirits all throughout the world, the U.S. and we deliver locally.