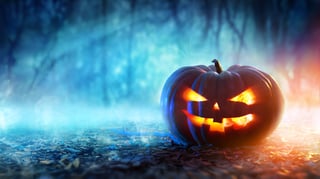 Halloween falls on a Saturday this year, and that means a great time to celebrate this October tradition with your best ghouls. Send your invites out now, and start planning the most haunting Halloween bash of them all. We've gathered a baker's dozen of creepy – and delicious ­– cocktail ideas to help you and your guests get in the spirit. Let these cool concoctions chill and thrill the little devil in all of us. Behold, the best Halloween party cocktails to spook your friends and foes.
Get ready for the bewitching hour with a perfect and spooky Bloody Mary. Share the legend of Bloody Mary – an apparition who may be benign or malevolent, depending on historic variations. Creep this out with garnish – candy eyeballs, skull stir sticks, etc.
Ingredients (by the pitcher):
6 limes, juiced
1 tablespoon celery seeds
3 tablespoons grated fresh or prepared horseradish
2 quarts tomato juice, chilled
2 tablespoons hot sauce
1 tablespoon Worcestershire sauce
Kosher salt and freshly ground black pepper
1 1/2 cups pepper vodka, chilled in the freezer
Celery stalk, for serving
Cucumber spears, for serving
Handful fresh cilantro, for garnish

Combine the lime juice, celery seed, and horseradish in a pitcher. Muddle the mixture with the end of a wooden spoon to blend and break up the celery seeds. Pour in the tomato juice, hot sauce, and Worcestershire sauce; season with salt and pepper. Stir everything together to combine. Divide the vodka among six tall, chilled glasses filled with ice. Fill the glasses with the Bloody Mary mix, stick in the celery and cucumber and garnish with the cilantro. Give the cocktail a good stir and serve.
It's been around since the 1930s – call it a classic. And note that it calls for four kinds of rum.
Ingredients:
1/2 ounce white rum
1 1/2 ounces golden rum
1 ounce dark rum
1/2 ounce 151 rum
1 ounce lime juice
1 teaspoon pineapple juice
1 teaspoon papaya juice
1 teaspoon superfine sugar
Stir together all these except the 151, and pour into a 14-ounce glass three-fourths full of cracked ice. Float the 151 as a lid (by pouring it into a spoon and gently dipping it under the surface of the drink). Then, if the spirit moves you, take a match to this mixture; it will burn. Garnish with mint (either straight or dipped in lime juice and then superfine sugar) and/or fruit.
Ingredients:
2 ounces tequila
1 ounces orange liqueur
1 ounces limoncello
1 ounces sour mix
Dash of orange juice
Pour the ingredients in a cocktail shaker with ice. Shake well. Strain into a sour or highball glass.
This is for a big crowd. And despite the candy, don't let the kids near this one.
Ingredients:
3 Bottles of tequila
1 Bottle of Cointreau or triple sec
1 Gallon of sweet and sour mix
2 Pounds of gummy (jelly) worms, as many colors as possible!
Big bag of ice

Get a big bowl, preferably a clear glass bowl or punch set. Pour all ingredients in the bowl. Add a bag of ice. Throw in the worms. Stir very well with a ladle. Pour a cup and enjoy. Sweeten it up with some simple syrup, stir well and taste. Want it more sour? Add some fresh lime juice.
Ingredients:
2 ounces dry vermouth
8 ounces premium gin (or vodka)
Ice cubes
4 pickled baby beets, each placed on a cocktail skewer
Chill four martini glasses in the freezer or fill with ice water and let sit until frosty, about five minutes (pour out water). Add the vermouth, dividing evenly; swirl to coat the glasses, then pour out. Add gin (or vodka) to a cocktail shaker filled with ice. Shake vigorously until chilled; divide among chilled glasses. Garnish each with a skewered pickled baby beet, and serve immediately.
Ingredients:

¼ cup sugar
½ cup Campari
½ cup gin
½ cup fresh-squeezed orange juice
3 cups club soda, chilled
½ cup pomegranate seeds
1 orange, thinly sliced
Combine the sugar and ¼ cup water in a small saucepan. Cook over medium heat, stirring often, until the sugar has completely dissolved, 1 to 2 minutes. Let it cool. In a large pitcher or punch bowl, combine the Campari, gin, orange juice, and sugar syrup; chill for up to 12 hours. Just before serving, add the club soda, pomegranate seeds, and orange. Serve over ice.
Ingredients:
1 tablespoon sugar
¼ teaspoon pumpkin pie spice
3 tablespoons vodka
2 tablespoons half-and-half
1 tablespoon canned pure pumpkin puree
1 tablespoon maple syrup
¼ teaspoon pure vanilla extract
Combine the sugar and ⅛ teaspoon of the pumpkin pie spice on a small plate. Dip the rim of a chilled martini glass in water, then dip in the sugar to coat. In a martini shaker filled with ice, combine the vodka, half-and-half, pumpkin puree, maple syrup, vanilla extract, and the remaining ⅛ teaspoon of the pumpkin pie spice. Shake vigorously, then strain into the prepared glass.
And, when in doubt, it's always a good time for a beer. There are some un-ghastly pumpkin ales and stouts in our beer coolers that will make a ghoul into more of a Casper the Friendly Ghost. Check out our great beer selection for seasonal brews.
Founded in 1934, Haskell's has championed fine wines for over 80 years. We have 13 wine stores in Minnesota, two delis and one restaurant. As one of the top wine shops in North America, Haskell's is known for legendary service and one of the finest collections of wine, beer and spirits. Led by Chairman and CEO Jack Farrell, and the Farrell family, Haskell's continues to be at the forefront of the wine scene throughout the world. Haskell's also can ship wine, beer & spirits all throughout the world, the U.S. and we deliver locally.