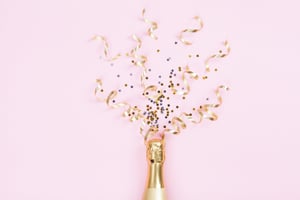 Haskell's just named 2019 Retailer of the Year by Market Watch Leaders!
That means a lot to us here at Haskell's, but let's give credit where credit is due. It's because we have the best customers that we're able to do what we love: offer you the right wine, beer, and spirits for just the right occasion.
To Be Farrell
Benny and Fritzi Haskell started their eponymous company in 1934 — not even a year after Prohibition — as a French wine importing business. Jack Farrell (my dad) bought it in 1970. With his commitment to customer service, quality, and serious wine bona fides, the company has expanded from its flagship location in downtown Minneapolis to 11 stores serving the Twin Cities metro. Currently, the Farrell family has owned the company almost 50 years, about 14 years longer than the Haskell's; but, rest assured, the name on the outside will never change because, honestly, without the Haskell's, there would be no Haskell's.
Jack currently serves as CEO and chairman, running the company with his four sons: Ted (president), Brian (chief operating officer), John (vice president of sales), and Beau (vice president of e-commerce—that's me!).
Pour Your Heart Into It
At Haskell's, we believe everyone should have enough knowledge to feel confident picking a good beverage, or feel comfortable asking any of our associates for help.
Following this simple mission, Haskell's has grown to an impressive $65 million in annual revenue — more than half of that from wine — with spirits and beer comprising about one-quarter and one-fifth of total revenue, respectively. With hundreds of different vintners and brewers from regions all across the globe, we have high hopes that Haskell's will continue to serve the Minneapolis-St. Paul area for many years to come.
Here's to a great night, a special occasion or your new favorite drink!