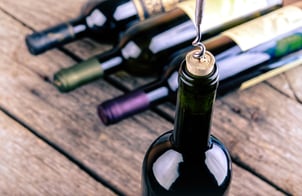 When you love wine as much as we do, it's easy to get lost online reading and listening to what other people have to say about their favorite new finds. Whether you are a serious oenophile or simply enjoy a nice glass of wine on occasion, you may find a few great reads from this hit list of the 15 best wine blogs you should be following. We also want to share a few podcasts and online "vinecasts" of what people around the world have to say about their passion: wine.
Our Pick of the Best Wine Blogs You Should Be Following:
Australian wines are the focus here, but you'll also find info about other wonderful wines from Italy, France, Germany, North America and….Lebanon.
For those who want to learn more about California wines, this one is for you. Thea Dwelle is dedicated to wine, food, and travel. She holds a certified CWAS (California Wine Appellation Specialist) credential, and is a software professional by day.
For the Francophile, here's your must-read blog by Wendy Narby, Senior Lecturer at the Ecole du Vin de Bordeaux, (Bordeaux Wine School). She has been a wine and food consultant in Paris and Bordeaux for over 20 years.
Called a mix of The Economist with the Wine Spectator.
Peter Conway is Manoa Vina — a wine enthusiast who has published more than 740 posts. Always a fun read.
Have a nose for Pinot Noir? William Gaffney's blog is the one for you. He's dedicated to all things Pinot.
7. A Wine Story
Marisa D'Vari, fine wine journalist and judge, is all about making wine fun and approachable.
Vivia Italia! Italian wine enthusiasts will want to bookmark and sign up for this one.
9. Wino Sapien
Highly organized blog by a passionate wine enthusiast who put together thousands of posts. We mention it's highly organized, because you can read his wine reviews in alphabetical order.
More of a port person? Here you go!
Aptly named – it's been around since 2007, and while it's called another wine blog, you'll also read about wine, beer, food, and travel.
12. Wild Walla Walla Wine Woman
Washington wines. Here's a blog from Catie McIntyre Walker dedicated to wines of the Walla Walla region of Washington – and the world.
13. Wine of the Week
A simple blog with lots to check out, especially if you enjoy wines from New Zealand.
14. Wine Life Today
Beautiful to look at, interesting to read. Here's a blog dedicated to wine, food, and travel.
From folks who love to discover great wines that don't cost a bundle.
BONUS: Podcasts and More!
1. Grape Radio

A James Beard award-winning podcast. Show topics include wine news, industry trends, and interviews with world class guests from the wine business.


2. The Winecast

Hosted by Tim Elliott, a wine marketer, entrepreneur, adjunct professor of marketing, and longtime wine lover since 2004.


3. Wine Oh TV

Monique Soltani is certificated from the Court of Master Sommeliers, and is also a broadcast journalist who has worked at a number of television stations across the US. Watch it, read it, enjoy her stories of wine, food, and travel.

4. Guild of Sommeliers Wine Podcasts

Roughly every month, Master Sommelier Geoff Kruth hosts the show in which he brings in guests and talks wine from the sommeliers' perspective.

In a New York state of mind? Check out this podcast, which specializes in small production estate-bottled wines and ciders throughout the New York wine region.

Enjoy, and be sure to tell us what wine blogs you love to read. Tell us in the comments!