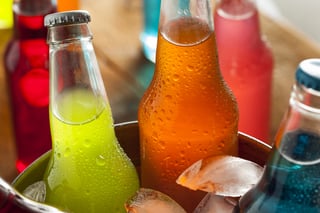 Admit it, there are days when nothing sounds good, and you definitely crave something a little sweet and something with a little kick. Beer? Nope. Wine? Nah. Vodka tonic? Not today. So, what's a person to do? We've got the answer in an aisle near you: hard sodas. They are definitely not the sodas of your childhood – these are better, but they're only for adults.
In fact, we have (more than) ten reasons why reaching for a hard soda is the best idea you'll have all day. And, how much alcohol are we talking about? Most average about the same as a beer.
10 Reasons Hard Sodas are Sweeter than Springtime
Root Beer is now way more interesting. Just as tasty and now with alcohol.
Hard Ginger Ale tastes better than it sounds.
Orange Soda with a kick. Being an adult was never so much fun.
Nostalgia never tasted as sweet.
They are simply delicious.
More flavors keep rolling out.
Ginger Beer. Okay, if you haven't ventured into hard ginger beer territory yet, we urge you to head this way. The English can't keep this a secret any longer. Watch the alcohol content, some pack a punch.
Pure cane sugar. Natural flavors. If that's important to you, many of these sodas fit the bill.
Easy-to-drink while mowing the lawn.
Straight from the bottle, or over ice – they make Saturday chores more fun.
BONUS: ADULT MILKSHAKES. Sure, we saved this for last. Here are a couple of recipes to try.
Classic Root Beer Float for those Over 21
Two Scoops Vanilla Ice Cream
Top with Hard Root Beer (Try Not Your Father's Root Beer)
Optional: 1oz. of vodka
Hard Soda Screw Driver
Shot of your favorite vodka
Top with your new favorite hard orange soda
Adult Creamsicle Milkshake
Two scoops vanilla ice cream
Cup of hard orange soda
1 or 2 ounces vodka
Add ingredients to blender, and blend until smooth.
Pour into a glass and top with a dollop of whipped cream.
Whether you call your favorite soft drink "soda" or "pop," you'll just call for another one of these grown-up versions of your childhood favorite. And, yes, we've got a full line of these adult beverages ready for you to try. Stop by.