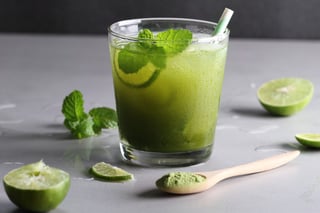 Minnesota is a golfer's state. In fact, we consistently rank at or near the top in golfer participation in the U.S. What does this have to do with cocktails? Plenty — maybe. Minnesota's unofficial official cocktail, The Bootleg, or Bootlegger Drink, has been a favorite of the state's country club set for decades.
Who actually invented this sweet and sour minty refreshment in a glass? Even seasoned local reporters can't find one definitive answer. What's the real story? Country clubs. Prohibition. The need to mask the harsh flavors of bootlegged booze. No matter the answer, we know that the Bootlegger is a true Minnensota original.
You don't have to be a card-carrying country club member to enjoy this lemony minty goodness, either. Our own John Farrell III, Haskell's Vice President of Sales and Merchandising, shared our recipe with Lake Minnetonka Magazine.
Bootleg or Bootlegger Drink
2–3 bunches of chopped mint, stems removed, plus a mint sprig for garnish
½ cup simple syrup
1 can frozen limeade
1 can frozen lemonade
Water
Club soda to top
Combine lemonade, limeade, simple syrup, and chopped mint in a blender. Add a bit of water until the blender is about 80 percent full. To make the drink, fill a tall glass with ice and add your rum, vodka or gin. Pour the bootleg mix on top until the glass is about three-fourths full. Top with a dash of club soda and a mint sprig to garnish.
Enjoy the Recipe? Then You'll Love Our Summer Drink Guide.
The long and hot summer days are perfect for relaxing with a cold drink in hand – or entertaining a group of friends while they do the same. The Haskell's Summer Drink Guide has some great recommendations about the best summer beers, wines and spirits, and how to serve them. And yes, the Bootleg Cocktail is in there! Just click the image below to access your free Summer Drink Guide.