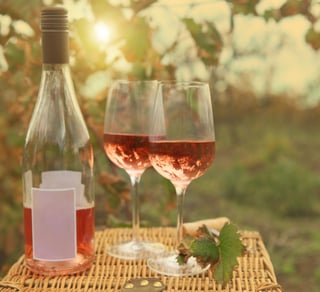 While the jury is still out about whether we'll have a white Christmas, we certainly can ensure you'll have plenty of white wine available for the holidays. Sure, white wine goes well with a Christmas turkey and red wine goes well with the prime rib, but remember the Rosé. A Rosé wine can pair beautifully with a number of foods you'll likely encounter of the long holidays.
What is Rosé?
First, Rosé is not a blend of white and red. It's actually made from the red grape varietals, but differently. And because there are different styles of Rosé, they vary in taste and dryness, and a great Rosé has the body of a red wine. Whether you'll have roasted meat for your Christmas feast or crab legs on New Year's Eve, we encourage you to consider bringing a Rosé to the table.
So, let's look at seven of the Best Rosé Wines for the holidays, including a few champagnes and sparkling wines you'd love to open on New Year's Eve.
Veuve Clicquot Rosé – You know the name but did you know they produce a notable Rosé champagne? Perfect for your New Year's Eve celebration. Great with seafood – from caviar to crabs.
Lete-Vautrain Rosé Royal – Surprise everyone with this beautiful champagne. Great for cocktail hour, salads, shellfish.
Scharffenberger Brut Rosé – A terrific California sparkling wine that's perfect with any of your shellfish dishes.
Roederer Estate is the California sparkling wine produced by Champagne Louis Roederer. This sparkling Rosé goes well with a variety of foods, including blue cheese, port, turkey, and shellfish.
Elk Cove Pinot Noir Rosé – From the Willamette Valley in Oregon comes this Rosé that will go well from anise cookies to grilled tofu.
Chateau Routas 'Rouviere' Rosé – Why not start the New Year with something as refreshing as this full-flavored Rosé? Pair it with creamy pasta dishes or a holiday ham.
Marques de Caceres Rosé – From the Rioja region of Spain, this Rosé has a hint of sweetness. Good with a variety of cheeses and meat dishes, including roasted turkey and chicken.
Founded in 1934, Haskell's has championed fine wines for over 80 years. We have 13 wine stores in Minnesota, two delis and one restaurant. As one of the top wine shops in North America, Haskell's is known for legendary service and one of the finest collections of wine, beer and spirits. Led by Chairman and CEO Jack Farrell, and the Farrell family, Haskell's continues to be at the forefront of the wine scene throughout the world. Haskell's also can ship wine, beer & spirits all throughout the world, the U.S. and we deliver locally.