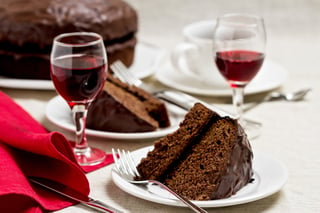 Aw, cake! What is not to love about rich, dense, dark, luscious, creamy cake? Especially, if it's in a glass ready to drink. If you haven't experienced Layer Cake Shiraz, we'd like to introduce you to this immensely drinkable and approachable Australian wine. And, when we say approachable, we also mean at a great price.
A little trivia: The owner of Layer Cake Winery also owns Hundred Acre where a Cabernet Sauvignon may go for $300. Winemaker Jayson Woodbridge recently spoke with The Spruce if you want to learn more about how a mid-price wine and a California favorite are making wine lovers happy around the globe.
The wine
This gem is 100% Shiraz using grapes from vineyards in McLaren Vale and the Barossa Valley in South Australia – one of the top Shiraz growing areas in the world.
Dark, dense and creamy, complex aromas of black plum, Bing cherry, blackberry and pepper merge with licorice, tobacco, mocha and dark chocolate. This is one inky Shiraz: an explosion of dark, super ripe, wild blackberry, with a touch of cigar box finishing with a mélange of exotic spices. A pure fruit bomb — complete from attack through a long, lingering finish.
What the critics say
Wine Spectator

—

"Appealing, with a supple, creamy blend of blueberry and strawberry flavors that mingle with details of vanilla, kirsch and sarsaparilla. Drink now through 2030."
What we say
Pick up a bottle, enjoy it now. Buy a case, enjoy it for a while.
BONUS: Food pairing and recipe
This cake is fine all alone. It's quite delicious by the glass. However, pairing it with food that is rich and savory and perhaps has hints of sweetness will take this cake
to the next layer. And, hey, it's grilling season again, right?

Combine the soy sauce, vinegar, brown sugar, Sriracha and garlic in a large bowl. Add the beef and onion and toss to coat; cover and refrigerate 1 to 4 hours. Preheat a grill to medium high and brush the grates with vegetable oil. Thread the beef, onion and scallions onto eight 10-inch skewers and brush with more oil. Grill the kebabs, turning occasionally, until marked, about 7 minutes for medium rare.