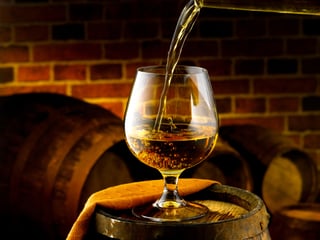 Refined, revered, and sophisticated – plus a favorite of Napoleon – cognac has never gone out of style. Cognac, named after a town in France, is considered the world's best brandy. While not all brandy is cognac, all cognac is brandy. It's complex, character-driven, and benefits from long aging, even more so than Scotch.
Four of the big names of cognac include Courvoisier (considered the cognac of Napoleon), Remy Martin, Hennessy, and Martell, though there are many, many brands to discover. We can help you!
Eight Facts about Cognac:
Classes of cognac are based on their age;
VS (Very Special)
Aged for at least two years in cask and often enjoyed with a mixer.
VSOP (Very Superior Old Pale)
Aged at least four years in a cask, often enjoyed neat.
XO (Extra Old)
A blend in which the youngest brandy is stored for at least six years. In 2018, however, this category is scheduled to change to ten years for the XO blend.
The grades or categories of cognac are in English, because the historical cognac trade, particularly in the 18th century, significantly involved the British.
Cognac is made from twice distilled white wine, using copper pot stills, and aged in French oak barrels. Though, not just any white wine. In order to be called cognac, it can only be made from a strict list of grape varieties of which the most widely used is Ugni blanc (known in Italy as Trebbiano).
Only three percent of all cognac produced is drunk in France. Asia and the US lead the way.
A Chinese woman drank an entire bottle of expensive cognac after she was told she could not bring it aboard her plane.
Cognac, unlike wine, doesn't evolve anymore once it is bottled. It retains the same age indefinitely.
It takes one hundred years to make LOUIS XIII Cognac. Each decanter takes four generations of cellar casters more than a century craft. One bottle of Louis XIII Rare Cask 42,6 (named for its 42.6% alcohol content) can fetch well over $20,000.
That's nothing compared to the $39,000 it will cost you for a bottle of Hennessy 8, a super cognac offered in a special Baccarat crystal (that rounds out our eight facts list).
Learn more about cognac: