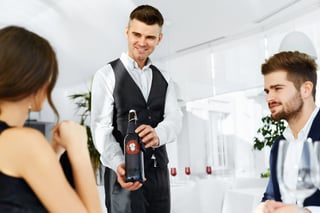 As the holidays slowly approach, so do many decisions we'll have to make. Where to celebrate? Who is hosting? What can we do differently? Here's a thought. Consider bringing world class beverage knowledge to your event by hiring a sommelier. At a restaurant or hotel, a sommelier (French in origin for wine steward) is a highly trained wine professional knowledgeable in all aspects of wine including food pairing. And now you can get that restaurant quality at home. Make your next holiday affair one to remember. In fact, you'll have to work less so you can enjoy your guests more.
Click to hear the American English pronunciation of sommelier.
Not sure? There are many benefits to having a sommelier at your next dinner party or gathering. In fact, a personal sommelier can bring something very special to a party, wine dinner, work team building events, client appreciation or an evening with other wine enthusiasts. After all, a special occasion deserves special care and our team knows wine.
Why Your Party Needs a Sommelier
A sommelier can develop a wine list for your party and suggest wines from a specific region, grape variety, important vintages, or almost any other aspect of the world of wine.
A sommelier provides pre-event set up.
Entertainment - your wine professional knows wine and can lead discussions about wine, regions, varietals.
They can work with closely with you to create a dinner menu to ensure best food pairings.
Less work, more fun. By bringing in a professional, you can converse with your guests and enjoy the evening instead of working.
Life is short. Make every moment that you can special. We can help.
Haskell's concierge services are ready to help with all of your wine and beverage needs with a wide variety of personal services. For your next event, let us provide a knowledgeable wine expert. Also, glassware is available for rental as well as delivery service for drop off and pick-up of products. Give us a call or 800-486-2434 or email us to find out more at info@haskells.com.