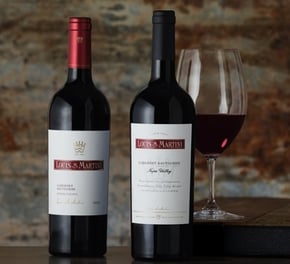 Louis M. Martini emigrated to the United States in 1899 at the age of 13 from Genoa, Italy. Louis made his first wine at home in 1906 alongside his father, who wisely sent him back to Italy to hone his craft and study winemaking at the University in Alba, Piedmont. He moved back to California and in 1922, started the Louis M. Martini Grape Products Company. The company offered medicinal and sacramental wines as well as wine bricks. Wine bricks were batches of concentrated grape juice which could legally be used in home winemaking during prohibition. Did you know that each household could legally produce and consume up to 200 gallons per year?
Louis M. Martini built his winery in St. Helena in 1933, one of the first five wineries founded in Napa after prohibition. His first release in 1940 cemented the winery as one of the oldest continuously operating in Napa. Ever a pioneer, Louis, along with several other Napa Valley wine vintners, helped to establish the Napa Valley Vintners in 1944, a nonprofit trade association whose mission is to promote, protect and enhance the Napa Valley appellation.
He eventually turned his winery over to his son, Louis P. in 1954, who was among the first in the state of California to produce a single-varietal Merlot and to also use wind machines to help combat frost in the vineyards.
Louis P. was also a pioneer for producing single lot wines and began to produce Cabernet Sauvignon from select barrels and name them by their lot numbers. The grapes for these single lot wines were sourced from a variety of vineyards, including the family-owned Monte Rosso, located on the Sonoma side of the Mayacamas Mountains.
The exciting new tasting room at Louis M. Martini Winery weaves contemporary luxury into a classic barrel cellar and creates one of Napa's most memorable experiences. It is a must see for your next Napa vacation!
Louis M.'s grandson, Michael, would go on to take over the reins of the winery in 1977, carrying on the family's renowned winemaking tradition. The winery was sold to the Gallo family, close friends of the Martinis, in 2002. The Gallo family continues to dedicate themselves to the winery, its world class Cabernet and its historic vineyards such as the Monte Rosso Vineyard in honor of the Martini family and their vision.
2014

Sonoma

County Cabernet

Sauvignon

The flagship wine, the Sonoma County Cabernet Sauvignon, reflects the best of the warm and narrow Dry Creek Valley and the hot yet wind-cooled Alexander Valley. Together, these unique features create a rich and superbly balanced Cabernet Sauvignon with copious yet supple tannins. Those tannins make the young wine approachable but will still give it enough texture to age gracefully. The 2014 vintage had a long, calm growing season, helping create elevated and concentrated flavors that include wild berries, plum, licorice and mocha. The full-bodied and mouth-coating feel on the palate leads to a long, graceful finish with tones of intense fruit, dried herbs and cedar inside firm structure.

"Scoring 90 points, the 2014 Cabernet Sauvignon Sonoma County is just a beautiful wine. Dense ruby/purple with classic tobacco leaf, blackcurrant, loamy soil notes and a touch of wood spice, this wine has the suppleness and upfront charm to be drunk now, but don't discount the ability of this wine to hold onto life and last, without losing its fruit, for another 7-10+ years. It is a great value." – Robert M. Parker, Jr.
2013

Napa

Valley Cabernet

Sauvignon

Conditions throughout the 2013 growing season in the Napa Valley were excellent, making for yet another classic vintage. Dry weather throughout the season made for excellent harvest conditions, allowing fruit to be picked at optimal maturity and balance. Each lot was aged for 18 months in a combination of French and American oak barrels (30% new, 70% used).

Scoring 91 points from The Wine Spectator, the 2013 Louis M. Martini Napa Valley Cabernet Sauvignon boasts a deep burgundy color and complex aromas of dark fruit, smoky cedar and dried herbs. Rich and broad in the mouth, the Napa Cabernet has an expansive mid-palate, silky tannins and sought-after balance. Finely etched flavors of black cherry and blackberry are framed by licorice and toast on the long finish.