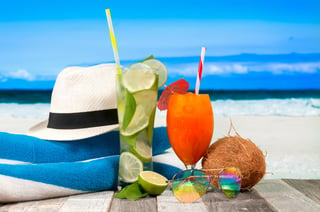 On a hot summer day, there's nothing quite like a cool beverage. For those of you with a sweet tooth, refreshing, tropical drinks are just the ticket!
When you think of an island drink, think rum. The majority of the world's rum comes from the Caribbean Islands and Latin America. Except you don't need your passport to try these — you can make them right at home!
7 Tropical Cocktail Drink Recipes
*Orgeat, pronounced or-zhat, or or-zsa, is a sweet syrup made from almonds, sugar, and rose water or orange flower water.
Shake all the ingredients in a shaker with ice and strain into an old-fashioned glass over crushed ice. Garnish with fruits and mint, and serve with a straw.
Combine all the ingredients in a blender cup. Add 1 cup of ice. Blend on high until smooth. Pour contents into a tiki glass or tall glass. Garnish with the pineapple wedge.
Hemingway Daiquiri Cocktail Recipe
Pour ingredients into cocktail shaker filled ice, shake well, pour into a glass and enjoy!
Hurricane (Drink of New Orleans — in the summer, it feels like the tropics!)
2 oz white rum
2 oz dark rum
1 oz lime juice
1 oz orange juice
2 oz passion fruit juice
1⁄2 oz simple syrup
1⁄2 oz grenadine
Add all the ingredients to a shaker and fill with ice. Shake, and strain into a large hurricane glass filled with fresh ice. Garnish with an orange half-wheel and a cherry.
Rum Punch
(For a crowd!)
In a pitcher, combine all of the ingredients except the ice and pineapple wedges and refrigerate until chilled, about 2 hours. Stir well and serve over ice in red wine glasses. Garnish each drink with a pineapple wedge.

Lava Flow
Blend the 2 rums and the strawberries in a blender to form a smooth paste. Pour this mixture into a tall (collins or hurricane) glass. Rinse the blender. Blend the banana, the coconut cream, and the pineapple juice in a blender with crushed ice until smooth. Pour this mixture into the glass with the rums very slowly. Garnish with a pineapple wedge.

Need a rum run? At Haskell's, we've got all the rum you'll need to make any and all of these thirst quenching tropical cocktails. Cheers!