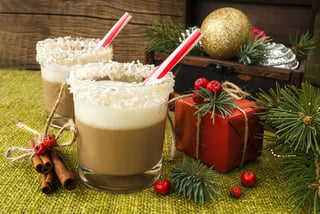 For many of us, the holidays are all about tradition. The parties, the food, the drink. This year, we want to help you perfect your holiday party game with a quick guide to the ultimate Christmas cocktails. Where to begin? Stocking your bar. By ensuring you have the basic core ingredients of many holiday drinks, you can be a home mixologist, but by adding a few special spirits and touches, you can be a mixologist with flair.
Home Bar Must-Haves for Holiday Cocktails
Basics include:
Add-Ons:
Bitters - If you get one bottle of bitters, get Angostura but try others as well.
Maraschino Liqueur - Consider this a secret weapon in your creative kit of cocktails. It's

bittersweet, almond flavored liqueur made from Marasca cherries in Italy. Not to be confused with maraschino cherries, which you should have as well.

Kahlúa - Whether it's White Russians, Black Russians, or in your coffee, this coffee-flavored liqueur from Mexico goes far with crowd pleasing and experimentation

Sugar cubes
Christmas Party Cocktail Ideas and Recipes
This simple recipe is aptly titled for Minnesota's ever-changing weather.
Ingredients:
2 cups dark rum
3 cups ginger beer (NOT ginger ale)
Juice of 4 limes
Splash of vanilla extract
Combine ingredients in a pitcher. Serve on the rocks with lime wedges. Serves 8.
Ingredients:
1 oz. gin

1/2 oz.

Maraschino Liqueur

1/2 oz. l

emon Juice

1 e

gg white


Whipped cream (to top)
Shake all ingredients with ice and strain into a cocktail glass. Top with whipped cream and serve.
Manhattan with Maraschino Liqueur
Ingredients:
2 oz. bourbon
1/2 oz. sweet vermouth
1/4 oz. Maraschino Liqueur
2 dashes orange bitters
Orange (optional)
Bourbon cherry for garnish
Old Fashioned glass
Pour bourbon, vermouth, Maraschino Liqueur and bitters over the ice. Garnish with orange, and bourbon cherry, if desired. We recommend.
Ingredients:
1 part Kahlúa
2 parts vodka
1 part heavy cream
Fill a rocks glass with ice cubes. Add Kahlúa and vodka, finish up with a cream layer.
Ingredients:
1 part Kahlúa Chili Chocolate
3 parts Tequila
2 dashes of Angostura bitters
Add together, enjoy. This one will have a kick.
Ingredients: