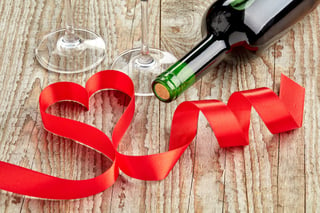 Are you looking to add a little sweetness to your life? Perhaps to celebrate the sweetheart who makes your heart swoon? We've put together a list of some of the best sweet wines for your sweetheart this Valentine's Day, and you may be surprised to find that all of these spectacular offerings can be found at Haskell's.
Your list of sweet wines to consider for your sweetheart.
Prosecco - There are various types of this Italian wine; Spumante (sparkling) Frizzante (semi-sparkling) and Tranquillo (still) however, most popular in the U.S. are the sparkling wines which vary in sweetness. Perfect for any celebration.
Moscato - From the Italian region of Piedmont, this approachable sweet low-alcohol wine is terrific as an aperitif. And, it's popularity is making a resurgence thanks to a number of hip-hop musicians including Drake.
Late-harvest Reislings - Late-harvest refers to grapes that are left on the vine longer than usual. They are usually are rich and sweet.
Sauternes - These stunning French dessert wines are from the Sauternais region of the Graves section in Bordeaux. Due to the high cost of production, these wines can have a hefty price tag; however, if you are opting for a winner of a sweet wine, splurge.
Remember, the Big Cheese has all of your cheese, olive oil, meats and other treats that will pair perfectly with your Valentine wine. Stop by either of two locations: St. Paul or Minneapolis.