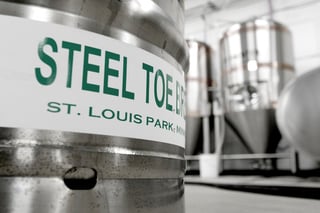 In St. Louis Park, Minnesota is a small brewery kicking out some big flavor. The family-owned Steel Toe Brewery has been producing west-coast style American ales and unique interpretations of German, Belgian and English beers since opening its doors in 2011. However, it took a decade of carefully crafting a plan to make it come to fruition. It's quite a story. Kudos and cheers to them, because it means more locally made in Minnesota beer for you.
Let's get to the Steel Toe brews themselves. There are four mainstays and a seasonal offering.
While the size of the boot might be a bit small, the intensity of the hop flavor and aroma in Size 7 more than makes up for it. Steel Toe takes prodigious amounts of hops and adds them any chance they get to this Northwest style IPA.
Color: Gold
Alcohol content by volume: 7.0%
International Bitterness Units: 77
Provider is brewed to be light and refreshing with a slightly sweet malt flavor and floral hop aroma. Unfiltered to bring out the subtle flavors in this glorious brew. Let Provider take care of you for a while.
Color: Straw
Alcohol content by volume: 5.0%
International Bitterness Units: 15
When you find yourself parched, Rainmaker brings refreshment. Brewed with caramel and dark roasted malts, then doused with a torrent of hops, this India Red Ale is sure to please.
Color: Copper
Alcohol content by volume: 6.5%
International Bitterness Units: 65
Bold and complex from a tremendous amount of roasted malts, yet smooth and rich from the addition of oats. Dissent has its own opinion of what a dark beer should be.
Color: Black
Alcohol content by volume: 7%
International Bitterness Units: 50
We support all of the locally crafted beers, wines, and spirits. After
all, who doesn't love tasting the love and pride in each sip that's made right here in Minnesota.
You can find these offerings from Steel Toe Brewery in our beer coolers, or have them delivered right to your door with Drizly. How's that for service?
Founded in 1934, Haskell's has championed fine wines for over 80 years. We have 13 wine stores in Minnesota, two delis and one restaurant. As one of the top wine shops in North America, Haskell's is known for legendary service and one of the finest collections of wine, beer and spirits. Led by Chairman and CEO Jack Farrell, and the Farrell family, Haskell's continues to be at the forefront of the wine scene throughout the world. Haskell's also can ship wine, beer & spirits all throughout the world, the U.S. and we deliver locally.