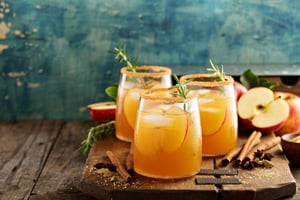 When the leaves begin to change hues from a bright green to a vast array of reds, yellows, and oranges, it can only mean one thing: it's apple-picking season in Minnesota. Our great state may be famous for the superb Honeycrisp, but there's more to explore in the land of apple orchards and cool fall breezes. With apples comes cider. But not just any cider — hard apple cider. Here are several delicious ciders to try this fall.
Number 12 Cider House Sparkling Dry Cider
Let's start off strong with this shimmering, dry cider by Buffalo, Minnesota's Number 12 Cider House. The first of three ciders produced, this is English-style, tart, and sparkles like Champagne. Rumor has it Number 12 may open a tasting room in a hip neighborhood of Minneapolis soon, too. Grab this cider and become a true fan before the bandwagoners pile on.
Lion Heart Hard Apple Cider
Brewed for Minneapolis Cider Company, Lion Heart Hard Apple Cider offers a balanced apple profile, honed in for those seeking a lush, crisp, and clean drink. Look for a hint of fruit-forward notes that land in the familiar comfort of apple juiciness. Bonus: Since these are packaged in a four-pack of tall cans, they're perfect for your fall weekends out of town or just hanging out in the backyard after raking up those leaves.
Boonville Bite Hard Apple Cider
A mouthful of California sun and plenty of apple substance — think tannins in wine, but crispy apple texture in Boonville Cider House's Hard Apple Cider. Look for a bite of citrus and fresh apple crunch in the finish. Grab this one before it gets too chilly, or maybe you'll need a reminder of the sunny coastline later in the fall as Minnesota winter approaches. Either way, stock up.
Yellow Belly Hard Apple Cider
Sapsucker Farms, located in Mora, Minnesota, makes a variety of ciders under the name Yellow Belly Small Batch Hard Cider, including ginger, barrel-aged, and lemon basil. But of course, they have a classic semi-sweet you probably ought to pick up — and it's even gluten-free. If you're ever in Mora, swing by the farm, which also features maple syrup, Minnesota wildflower honey, wild rice, and yes, certified organic apples. Talk about a one-stop shop for the road-tripper.
Traditions Ciderworks Amity Rose Dry Cider
Minnesota's fertile, beautiful landscapes and affinity for apple production may be compared to Oregon's Willamette Valley, where you'll also find delicious apple ciders. To get a taste for the West Coast bounty, try Traditions Ciderworks' Amity Rose Dry Cider. Bittersweet apples with tannins for texture make it more complex than your average cider, but that's a good thing. Can you find the touch of honey notes?
Now that you have a few hard apple ciders to get you started, all you need is your flannel, boots, and weekends cleared to experience the best of beautiful autumn in Minnesota.