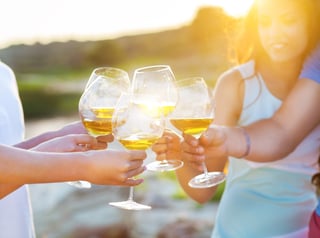 Summer is in full swing, and here in Minnesota, we all know that means plenty of fairs and festivals celebrating all that our home state has to offer. What better time to find a designated driver and a few friends, and plan an adult adventure celebrating the unctuous offerings of our favorite fermented fruit – wine?
Mark your calendar for these can't miss summer wine events around Minnesota. Of course, we are hosting some of the events, and are pretty excited to share them with you.
Wednesday, July 20 – 5:00-7:00 PM
Haskell's Minnetonka
More than 20 red and white wines from this prolific family of wine makers are available for tasting at Haskell's Minnetonka. No reservations needed.
Saturday-Sunday, July 30-31 – 12:00-6:00 PM
Parley Lake Winery, Sovereign Estate, and Schram Vineyards
Experience 3 award-winning wineries within a 5-mile radius in beautiful Waconia Wine Country, including Sovereign Estate, Parley Lake, and Schram Vineyard. Wine, live music, food trucks, arts and crafts. $25 per person.
Saturday, July 30 – 12:00-3:00 PM
St. Croix Boat & Packet Co., Stillwater
Join us for this aquatic oenophile adventure leaving from the St. Croix Boat & Packet Co. Make reservations by July 23. Price is $43 for Bacchus Wine Society members, $48 for non-members. Boat boards at 11:30 AM sharp!
Saturday, August 6 – 12:00-5:00 PM
The Shops at West End, St. Louis Park
What better way to experience more than 20 Minnesota's wineries (and cideries) in one afternoon? Head over to the West End in St. Louis Park to meet vintners and try new wines. $40 ticket includes admission, wine glass, tastings at each winery and cidery, tote bag, and food samples.
Wednesday, August 17 – 6:00-9:00 PM
Harriet Island West
Join us for our annual cruise along the mighty Mississippi. Price is $55 for Bacchus Wine Society members, $65 for non-members. Boats board at 5:30 PM sharp.
Wednesday, August 27 – 12:00-8:00 PM
North Folk Winery, Harris
Vines? Bluegrass? Festival? We so like this. It's the first annual festival of its kind held at the North Folk Winery in Harris, MN. Five bluegrass bands, locally produced wine, craft beer, non-alcoholic beverages along with food. Tickets cost $15.