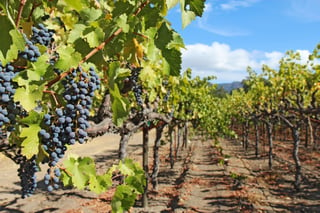 Head West, young man and woman, if you are ready to explore the most beloved wine region the U.S. If a trip to California Wine Country is out of the question, for now, let's take an armchair trip and discover California's wonderful wines together.
Introduction to California Wines
Nearly 90 percent of all American wine is produced at the more than 1200 wineries stretched across 700 miles in California. It's a large, geographically diverse state ranging in various climates – with warm days, cool nights and abundant sunshine for a long growing season.
And, it's the big Cabs that often come to mind – these Cabernet Sauvignons are some of the most prized wines produced in California. Along with Cabernet Sauvignon grapes, other leading varieties include Chardonnay, Merlot, Pinot Noir, Sauvignon Blanc, Syrah and Zinfandel.
Explore California Wine Country
There are half a dozen major wine regions throughout the state. Here's a quick look at some the general growing regions.
North Coast – Some of the most famous and sought after wines come from this stunning region, including those from the most famous of all, Napa Valley. Others here include Lake County, Sonoma Valley, Mendocino, and Marin Counties.
Central Coast – The large area along the coastline breaks into two regions, north and south, home to Livermore Valley, Monterey, Carmel Valley as well as Paso Robles. This stretch ranges from Barbera, Pinot, Chardonnay to Zinfandel. Some of the state's oldest vineyards were planted in Paso Robles dating back to the 1790s.
Sierra Foothills – Think quaint old mining towns and delicious Zinfandel, Syrah and Viognier, grown in Amador, El Dorado, and Yuba counties.
Inland Valley – Includes Madera County, Sacramento County, Yolo, San Joaquin.
Southern California – This area is beginning to expand its profile with wineries in Los Angeles, Riverside and San Diego counties.
Far North California – And, way up north in Redwoods, you'll find Humboldt, Siskiyou and Trinity counties.
Besides outstanding Cabernets, California has been producing sparkling wines for years, thanks in part to Korbel Champagne Cellars, which put down roots in Sonoma County in the 1880s. Champagne houses of France that have been drawn to California include Moët et Chandon's Domaine Chandon, Taittinger's Domaine Carneros, and Louis Roederer's Roederer Estate. There are now more than 80 producers who, in 2014, shipped more 9.4 million cases of sparkling wine.
Fun Facts:
The film, Bottle Shock, is based on the 1976 wine competition dubbed the "Judgment of Paris" where California defeated French wine in a blind taste test.
The Mission Grape is the oldest cultivated grape in the U.S. It is considered the grape that defined California viticulture.
Sonoma Valley's Gundlach Bundschu Winery, founded in 1858, is California's oldest continuously family-run winery.
Founded in 1934, Haskell's has championed fine wines for over 80 years. We have 13 wine stores in Minnesota, two delis and one restaurant. As one of the top wine shops in North America, Haskell's is known for legendary service and one of the finest collections of wine, beer and spirits. Led by Chairman and CEO Jack Farrell, and the Farrell family, Haskell's continues to be at the forefront of the wine scene throughout the world. Haskell's also can ship wine, beer & spirits all throughout the world, the U.S. and we deliver locally.