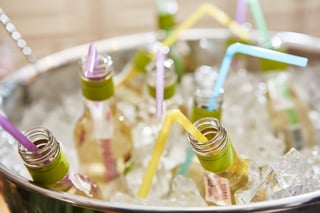 Everyone loves a little convenience once and a while, and there are some terrific options on our shelves and in our coolers when it comes to "ready to drink" (RTD) cocktails or premixed drinks. You'll be pleasantly surprised by the diversity and the quality of offerings when it comes to premixed cocktails out there today. We're even talking Manhattan's, folks. It's a new world when it comes to cocktails, so why worry about bringing all the fixings when you can have great taste in one single bottle.

These aren't your premixed cans from your college days. Not even close. In fact, these are high-end cocktails worth sipping anytime, anywhere.
Here are three pre-mixed cocktails worth a try:
Jefferson's 'The Manhattan' Barrel Finished Cocktail
From Kentucky comes this great offering — the finished product is comprised of six-year-old bourbon 125 proof cut down to 82.3 both sweet and dry vermouth, and barrel-aged, spiced cherry bitters. Enjoy it as you would any Manhattan, on the rocks or stirred and strained over ice.
High West 'The 36th Vote' Barreled Manhattan Rye
Who knew but Utah is making some terrific Manhattan's in a bottle. Our buyers did, and we're happier for it. Enjoy 2 parts High West 95% rye whiskey, 1 part sweet vermouth, and a couple dashes of Angostura bitters per serving.
High West The Barreled Boulevardier
A complex and strong cocktail made with Bourbon with Vya® sweet vermouth and Gran Classico®, a bitter amaro from Switzerland. Serve either over ice, or stir with ice and strain into a cocktail glass. Garnish with a twist of orange or lemon zest.
And one more, just because:
Not everything can be as classy as a Manhattan, or Bourbon cocktail and sometimes you just want a margarita in a bottle or can.
There are plenty of margaritas in a can or mixed in bottle, but these little effervescent tasty treats are perfect when you don't want a beer, need a cool refreshing adult beverage, and love the taste of 100% blue agave nectar, pure cane sugar with a 5.9% ABV and want it now.
While we at Haskell's believe a freshly-made drink is generally your best bet, sometimes you're in a hurry (or are just feeling lazy). Thankfully, a ready-to-drink cocktail doesn't have to be all bad — add to that convenience the fact that we're now open on Sundays! You can stop by any of our 13 locations 7 days a week or order online 24/7.