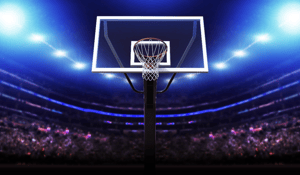 One tournament. Fourteen locations. Sixty-eight teams. Eighteen game days. One winner.
The madness is back, and if this year's NCAA basketball tournament is anything like last year's bracket-busting excitement, we're in for some entertaining games. This year, we're especially excited because the tournament ends in our own backyard, at U.S. Bank Stadium. That's right! The nation's top four Division 1 teams will battle it out for a chance at the title right here in Minneapolis, April 5–8.
Whether you're watching from your sofa, the local bar, or want to grab a drink after the game here in town, here are some cocktails based on the No. 1 seeded teams and some Minnesota craft beers to get you in the spirit.
Duke - No. 1 in East Regional
Rooting for the Blue Devils? We have the perfect concoction for you. This Blue Devil Cocktail is both beautiful and delicious.
Ingredients:
Directions: Dip rim of cocktail glass in lime juice then confectioner sugar. Place glass aside. Fill a cocktail shaker with ice, rum, Curacao, and orange juice. Shake well. Pour into cocktail glass with ice and garnish with a slice of lime.
Virginia Cavaliers - No. 1 in South Regional
Yahoo for the Wahoos! The Cavalier Cocktail is sure to get you excited for the big tournament.
Ingredients:
Directions: Add ingredients, shake with ice, strain into a cocktail glass, and enjoy the games.
North Carolina - No. 1 in Midwest Regional
If North Carolina caught your eye this season, try a cocktail created by local Carolina Inn called the Tarheeltini.
Ingredients:
Directions: Add ice and ingredients to cocktail shaker. Shake well. Pour into short glass and enjoy.
Gonzaga - No. 1 in West Regional
Gonzaga is a force to be reckoned with this year, with a 30–3 regular season record. If you're rooting for the Bulldogs, why not enjoy The Bulldog Smash.
Ingredients:
Directions: Muddle lemon, peach, mint, and sugar cane syrup in a cocktail shaker. Add bourbon and Cointreau, then fill with ice. Shake well. Strain into an Old Fashioned glass with crushed ice. Garnish with mint.
Championship Craft Beer Lineup
It's down to four teams. Whether you're a Minnesota native or you're visiting our metropolis for the first time, there is an abundant selection of tasty craft brews to try. Here are some of our favorites:
Not a beer fan? We're home to some delicious ciders, too. Try Sociable Cider Werks Freewheeler or Crispin Cider Brut.
Of course, if you're looking for a downtown destination before or after a game, Haskell's Wine Bar is conveniently located off Nicollet Avenue. We have wine, beer, coffee, and deli-style foods. Plus, we'll be featuring specials to celebrate the big tournament. No matter who you're rooting for or where you're from, we'd love to see you!