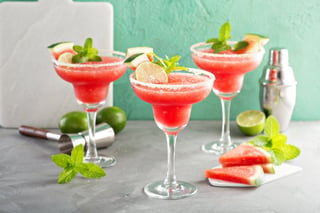 Sitting on the deck, sipping a Daiquiri. It sounds so refreshing and little tropical, too. But you don't have to travel to the Carribean to enjoy the delicious citrus flavors of this rum creation.
What's a Daiquiri? Basically, a family of cocktails whose main ingredients are rum, citrus juice, and sugar or another sweetener. Rum is often associated with the tropical islands where it originates. And, (this may surprise you) not all Daiquiris are sticky frozen concoctions. A "classic" means fresh, sweet and tart. If you are feeling literary, you may be delighted to learn that the Daiquiri was the favorite of Ernest Hemingway.
Mix things up with these 5 fun Daiquiri recipes (only one is frozen!)
2 oz. light rum
1 oz. plus one teaspoon fresh lime juice
1/2 oz. simple syrup
In a cocktail shaker filled with ice, combine rum, lime juice, and simple syrup. Shake vigorously, then strain into cocktail glass.
Add all ingredients to a cocktail shaker and fill with ice. Shake, then strain into a chilled cocktail glass.
1 1/2 oz. Bacardi Superior Rum
1 oz. fresh orange juice, plus wedge
1/2 oz. fresh lime juice
1/2 oz. simple syrup
Combine rum, juices, and syrup in an ice-filled shaker. Shake, then strain into a chilled glass. Garnish with orange wedge.
1 oz. Pineapple Rum
1 oz. Rhum Clément VSOP

1

1/2 oz. blackberry syrup
1 oz. lime juice
1 dash Old Fashioned Bitters
Combine Pineapple Rum, Rhum Clément VSOP, lime juice, blackberry syrup, and bitters. Add 3 oz. of water and pour into a Hurricane glass. Enjoy!
Strawberry Daiquiri (Frozen)
Large strawberries
1/2 cup light rum
2 limes, juice of
2 tablespoons sugar
2 cups crushed ice
Strawberry (to garnish)
1 cup mango, in chunks
In a blender, combine all ingredients until smooth and frothy. Pour into chilled glasses and serve with strawberry garnishes.
PRO TIP: For a special touch, "float" a little dark rum on the top of the cocktail for an added punch.