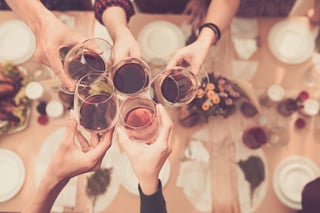 Just one week before our very American tradition of Thanksgiving, wine lovers around the world will be going into a frenzy waiting on the French tradition of Beaujolais Nouveau Day. It's a different kind of holiday, celebrating the young wine made from Gamay grapes just weeks after harvest. Under French law, the wine is released at 12:01 a.m. local time each year on the third Thursday in November. That makes November 17th the day for celebrations to begin, and all Haskell's locations will be celebrating as we unveil the release of the 2016 Beaujolais Nouveau. So, as we prepare to enjoy this annual event, here are some of Minnesota's best Beaujolais Nouveau 2016 celebration spots.
7 Things to Know About

Beaujolais
Made from Gamay grapes produced in the Beaujolais region of France.

It's bottled only 6-8 weeks after harvest.

Tastes best when slightly chilled (55-degrees Fahrenheit).

A great Thanksgiving wine that makes everyone happy.

Easy drinkability is due to a winemaking process called carbonic maceration which preserves the fresh, fruity quality of the wine, without extracting bitter tannins from the grape skins.

Beaujolais Day is celebrated with more than 120 events in the Beaujolais region alone — fireworks, music, parties, drinking!

And, yes, George Duboeuf is known for its popularization and production of Beaujolais wines — especially the Beaujolais Nouveau.
Where to celebrate 2016 Beaujolais Nouveau Day

It Wasn't Always a Worldwide Event
Today, the U.S. shares in the celebration, but in 1972, there were only two cities in the nation that could enjoy Beaujolais Nouveau: New York and Minneapolis. When Haskell's Jack Farrell decided to import this exciting wine for the Minneapolis wine community, it came with some risk. He had to order 50 cases in order to fill an entire air cargo container — shipping by sea would have taken far too long — and he was concerned about selling so much of a virtually unknown commodity.
Fortunately, he had no trouble selling the 600 wine bottles, because Beaujolais Nouveau Day has become a Haskell's tradition. Today, we sell thousands of cases. We're the largest retailer of Beaujolais Nouveau in the state of Minnesota and a top 10 retailer in the entire U.S.