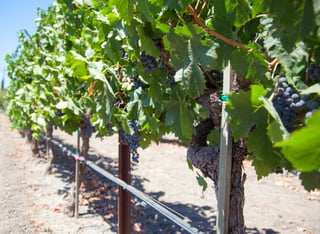 Cold-hardy. That describes so much of Minnesota, and the types of grapes that grow well here. What kind of grapes? Chambourcin, Chardonnay, Concord, Delaware, Edelweiss, Frontenac, Frontenac Gris, Geisenheim, Gewürztraminer, La Crescent, La Crosse, Leon Millot, Malbec, Marechal Foch, Marquette, Riesling, Sabrevois, Seyval Blanc, St. Croix, St. Pepin, Syrah, Vidal Blanc, Vignoles, and Zinfandel. It's safe to say that Frontenac is a frontrunner. So, what to drink and where to find it?
From the state's first vineyard to the more than 40 across the state, you can find world-class wine being produced in just a short drive. Summer is a great time to pack a picnic, a blanket and visit any of the many wineries around the state. We've picked ten local wineries to check out soon.

Ten Minnesota Wineries worth the drive;
Alexis Bailly 8200 Kirby Ave. S., Hastings; 651-437-1413; Open Friday-Sunday 11:30-5:30
Cannon River Winery 421 Mill Street West, Cannon Falls, MN; 507-263-7400; Monday-Sunday Call for hours
Chateau St. Croix Winery 1998 Highway 87, St. Croix Falls, WI; 715-483-2556; Open Thursday-Sunday Call for hours
Four Daughters Vineyard & Winery 78757 MN-16, Spring Valley, MN 55975; Open Monday-Sunday Call for hours
Glacial Ridge Winery 16945 320th St., New Prague, MN, 56071; Open Wednesday-Sunday Call for hours
Next Chapter Winery 6945 320th St., New Prague, MN, 56071; Open Wednesday-Sunday Call for hours
Sovereign Estate 9950 North Shore Road, Waconia; 952-446-9957; Open Thursday-Sunday 11 am- 6 pm
St. Croix Vineyards 6428 Manning Ave., Stillwater; 651-430-3310; Open Thursday-Sunday 10 am - 6 pm
Villa Bellezza Winery 1420 Third St., Pepin, WI; 715-442-2424; Open Monday-Sunday Call for hours
Wine Haven 10020 Deer Garden Lane, Chisago City; 651-257-1017; Open Monday-Sunday Call for hours
And there's plenty more!
Check out this Ulimate List of Minnesota Wineries.
If you can't visit, you can still enjoy these local wines by shopping online or visiting any of our Haskell's locations. We are proud to carry many Made in Minnesota wines.