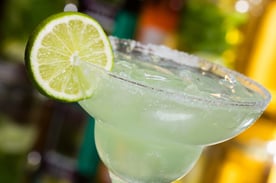 Holy Moly. Pass the tequila. February 22 is National Margarita Day.
Who invented this tequila-rrific cocktail? Like so many things, there are quite a few claims to fame. We turned to the Smithsonian for their spin. One such story goes that in 1938, Carlos "Danny" Herrera (at his restaurant Rancho La Gloria located between Tijuana and Rosarito) created the drink for customer and former Ziegfeld dancer Marjorie King, who was allergic to many spirits, but not to tequila. Another tale says in 1948 a wealthy Dallas socialite by the name of Margarita Sames claimed to have whipped up the drink for friends at her Acapulco vacation. Whomever concocted the first, we say thanks.
Tequila is the common denominator in all margarita recipes. So, what type to use? Consider blanco – unaged, which may be labeled Silver, Blanco, Plata, White or Platinum or reposado tequila. Blanco will give your cocktail more of a true agave flavor while reposado is for those who want a smoother taste.
Here are our top 3 all-time favorite margarita recipes.
1 lime, cut crosswise into 5 slices
coarse salt
1 cup ice cubes
1/2 cup Blanco tequila
1/4 cup triple sec or other orange liqueur
2 tablespoons fresh lime juice
Place 3 lime slices in single layer on small plate. Pour enough salt on another small plate to reach depth of 1/4 inch. Lightly press rims of 2 Margarita glasses onto lime slices, twisting to extract juices and coat rims. Dip moistened rims into salt to coat lightly. Combine ice cubes, tequila, triple sec, and lime juice in cocktail shaker. Shake until outside of shaker becomes frosty. Strain mixture into prepared glasses. Garnish rims with 2 remaining lime slices and serve immediately. Makes 2 servings.
2

oz

Blanco or Reposado Tequila

1

oz

Fresh Lime Juice

1/2

oz

Agave Nectar

1

Lime Wheel
Salt
Combine tequila, lime, agave nectar with ice and shake to chill and dilute. Strain into a salted rocks glass or serve up in a salted margarita glass without ice. Garnish with a lime wheel and a salt rim.

1/2 cup fresh lime juice
1/2 cup tequila (Blanco)
1/4 cup orange liqueur, such as Grand Marnier
1/4 cup simple syrup, or more as needed
4 thin slices cucumber
1 jalapeno, halved lengthwise
Ice, for serving
Salt for glass rims, optional
Mix together the lime juice, tequila, orange liqueur, simple syrup, cucumber and jalapenos in a large pitcher. Chill for at least 1 hour (the longer the margarita sits, the more the cucumber and jalapeno flavors infuse into the drink).
Serve over ice in salt-rimmed glasses, if desired. Makes 4-6 servings.
Plus one frozen margarita recipe...because, well, sriracha and tequila.
2 cups strawberries, hulled and chopped

1/2 cup Blanco tequila
1/4 cup Cointreau (or other orange flavored liquor)
1 tbs agave nectar
1/2 tsp Sriracha
2 cups ice

(yield: 32oz, about 2 generous servings)
Add all ingredients to a blender, blend until smooth. Pour into a sugar rimmed margarita glass.
Oh, and in case you were wondering - the frozen margarita has its place in history, too. Smithsonian's National Museum of American History now houses the world's first frozen margarita machine, invented in 1971 by Dallas restaurateur Mariano Martinez.