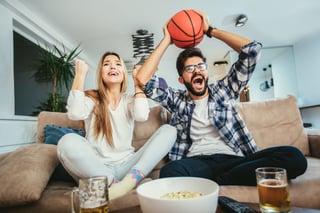 When some people think of March, they think of St. Patrick's Day, daylight saving time, or spring break. For avid basketball fans, March means madness — college basketball madness that starts with brackets and finishes with one team cutting down the nets.
We may have already set our brackets, but we thought we'd up the ante with some spirited drinks to enjoy while you watch the madness unfold. Here are our picks, inspired by the host cities and top seeds in each of the tournament's regional finals.
South Regional — Atlanta
You can't think of Georgia without thinking peaches, so we found a fun peach-flavored cocktail to sip while watching any of the South Region games.
2 oz. Orange Vodka
1-1/2 oz. Peach Liqueur
Ginger Ale
1 peach, pitted and chopped into large chunks
Ice
Mint sprig to garnish
Combine vodka, liqueur, peach chunks and ice into a glass. Top off with ginger ale, and garnish with mint sprig.
Yahoo for the Wahoos! This tequila cocktail is sure to get you excited for the big tournament.
1 oz. Gold Tequila
.5 oz. Galliano
2 oz. Orange Juice
1 oz. Whipping Cream
Add ingredients, shake with ice, strain into a cocktail glass, and enjoy the games.
West Regional — Los Angeles
The Sweet Sixteen and Elite Eight games will be played at the Staples Center, but why not salute the glitz and glam of nearby Hollywood? A Hollywood Martini should do the trick.
3 oz. Vodka
.5 oz. Chambord Black Raspberry Liqueur
Dash of Pineapple Juice
Pour ingredients into a cocktail shaker full of ice. Shake well. Strain into a martini glass.
No. 1 Xavier Musketeers
This cocktail might not have anything to do with Cincinnati, the home of the Musketeers, but it has an equally fun name as Xavier.
Shake with ice, strain into a cocktail glass, and serve.
BONUS SHOT:
Try the
Three Musketeers
. Combine equal amounts of Kahlua, Creme de Cacao, and Heavy Whipping Cream, shake with ice, and strain into a shot glass.
East Regional — Boston
Drink like a true Bostonian with this cocktail, created in 1898 at the third oldest restaurant in Beantown.
Shake with ice and strain into a red wine glass filled with ice. Garnish with orange, lemon, and cherry. Serve with straws.
No. 1 Villanova Wildcats
Whether Villanova has a spot in your Final Four or not, this Philly-inspired drink will make for a great basketball viewing sipper. It was named Philadelphia's signature cocktail in 2011.
Combine in a shaker, shake well and strain into a cocktail glass. No garnish.
Midwest Regional — Omaha
Did you know Kool-Aid was created in Nebraska? Well, it was! And it can be used to make a pretty tasty cocktail.
2 oz. of vodka
orange juice
kool aid
Pour the vodka in a glass. Add orange juice and Kool-Aid Mix until glass is full, stir with a spoon and serve chilled.
No. 1 Kansas Jayhawks
The Jayhawks are a top seed for the third straight tournament. Want to drink to that? Try their namesake cocktail.
Mix together in equal parts. Float grenadine on top.
Final Four: San Antonio, Texas
Once the Final Four claim their rightful place in the NCAA tournament, games will be played in San Antonio, Texas, where a different drink is deemed the signature cocktail each year. Pretty cool, right?
2 oz. Herradura Anejo
1/4 oz. agave nectar
2 small dashes of Angostura Bitters
2 small dashes of chocolate bitters
Grapefruit peel for garnish
Combine agave nectar with Angostura and chocolate bitters in a rocks glass and stir until nectar is dissolved. Add tequila and ice to glass and stir gently, quickly, and briefly. Zest grapefruit peel over cocktail and garnish.
Once the excitement of this year's tournament winds down, look forward to next year's Final Four battle right here in Minneapolis. Much like when the Philadelphia Eagles took on the New England Patriots in the big football game this year, we'll be celebrating the madness at our wine bar on Nicollet Mall.