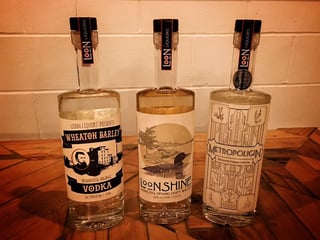 "Cows, college, and contentment" is the slogan of the quaint town of Northfield, Minnesota. Though, it may soon need to add "cocktails" to that slogan, because a little distillery called Loon Liquors is making a name for itself (as well as some terrific Made in Minnesota vodka, gin, and whiskey).
The Story Behind the Liquor
Chief Operations Officer Simeon Rossi says he and his partner Mark Schiller, "Stumbled upon the idea about 6 years ago, after I (Rossi) made 10 gallons of coffee liqueur and threw a White Russian party. Mark was in attendance and loved the liqueur. He said it was the difference between cookies baked by your grandmother and those you buy at the store. From there, he asked if he could start writing a business plan for the product, and the rest is history."
The distillery (cocktail room) tucked behind iconic Malto-O-Meal has a number of spirits available on liquor store shelves, including ours! Look for Loonshine Whiskey, Metropoligin Gin, and the Wheaton Barley Vodka.
Rossi says, "All of our products are certified organic and use locally sourced ingredients." Their vodka has earned some terrific accolades, including some love from MSP Magazine's Dara Moskowitz Grumdahl.
Rossi and Schiller are loyal to their hometown, where they both graduated from Northfield High School. Rossi says, "We continue to have strong connections to Northfield and we love the community. We have been really well received in town, and the low cost of doing business here doesn't hurt either."
Who is Loon Liquors?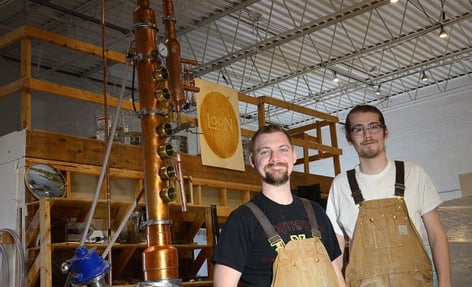 (Pictured: Simeon Rossi - Chief Operations Officer, Northland College graduate, works on the distilling, recipe creation, creative, and cocktail room side. Mark Schiller - CFO, U of M Carlson School of Management graduate, works on business and marketing side, financial guru. )
What's next for Loon Liquors?
"The next product to come to market will be the one that started it all, our Coffee Liquor. It should be available in the cocktail room by mid-November, and in liquor stores shortly after. We will add a number of other liqueurs by spring. We will be starting our barreling program this winter, laying down rye, wheat, and bourbon whiskey. We expect them to rest a minimum of 2-4 years depending on the spirit," says Rossi.
If you are ever in Northfield, stop by the distillery and enjoy one of their custom-crafted cocktails. But, you don't have to go to Northfield to enjoy your own Loon Liquor vodka, gin or whiskey. Stop by any of our Haskell's locations to pick up your own bottle or two of these terrific Made in Minnesota spirits.
Founded in 1934, Haskell's has championed fine wines for over 80 years. We have several wine stores in Minnesota, two delis and one restaurant. As one of the top wine shops in North America, Haskell's is known for legendary service and one of the finest collections of wine, beer and spirits. Led by Chairman and CEO Jack Farrell, and the Farrell family, Haskell's continues to be at the forefront of the wine scene throughout the world. Haskell's also can ship wine, beer & spirits all throughout the world, the U.S. and we deliver locally.