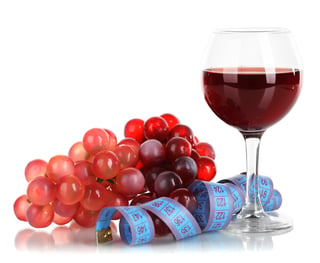 Goodbye 2017, and hello 2018. Are you ready to put your health first this year and get rid of some extra baggage? Millions of Americans are — and they're looking at just as many diet options. So much information. Well, if Mayo Clinic says a low-carb diet is okay, we say you don't have to give up your favorite wine. In fact, a recent Mayo Clinic study found low-carb diets, including Atkins, South Beach, and Paleo, to be safe for up to six months. They say depending on the diet, study participants lost between two-and-a-half to almost nine more pounds than those who followed a low-fat diet.
But before we head to the wine rack, what IS a carbohydrate? Mayo Clinic says there are three main types of carbs — sugars, starches, and fibers. Wine is naturally low-carb, but the calories aren't always low. Low-carb wine is defined in the U.S. as containing fewer than 7g of carbohydrates per serving.
If you are going low-carb, we say wine and cheese please, just pass on that cracker.
Check out these low-carb wines that will help you stay resolved to lose weight.
RED WINES TO ENJOY:
Merlot: 120 calories, 3.7 carbs
Pinot Noir: 121 calories, 3.4 carbs
Cabernet: 120 calories, 3.8 carbs


WHITE WINES TO ENJOY:
Pinot Grigio: 123 calories, 3 carb
Sauvignon Blanc: 120 calories, 3 carbs
Champagne/Sparkling Whites: 96 calories, 1.5 carbs
NOTE: Dry wines have fewer carbs than sweet wines. For instance, A 4-ounce serving of a Pinot Noir, Cabernet Sauvignon, Syrah, or Chardonnay has approximately 3 grams of carbs. Dessert wines, on the other hand, can easily triple that amount. If you enjoy the bubbles, you are in for a treat. That's your best wine bet for keeping the calories and the carbs low.
If you want the taste of wine but not the alcohol or carbs, here are a few suggestions.
Ariel Non-Alcoholic Cabernet Sauvignon — From the producers of J. Lohr wines. Oak-aged Cabernet Sauvignon offers aromas of blueberries, blackberries, black pepper and chocolate, with a hint of toasty oak, soft tannins, and a dry finish.
Ariel Non-Alcoholic Chardonnay — From the producers of J. Lohr wines. Buttery apple and butterscotch characteristics, combined with a toasty French oak bouquet. Should continue to develop complexity as it ages.
Any of the Skinny Girl wines — A full selection of white, red, and rose wines that taste good with fewer calories and carbs.
Moderation is the key, and we hope we can help you find the right wine for your diet. To your health!