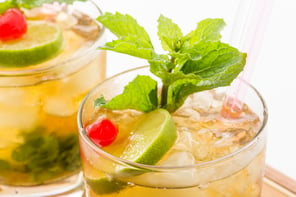 The first Saturday in May is reserved for one of America's longest running and greatest sporting traditions, the Kentucky Derby, which dates back to 1875. Along with the race comes the rich traditions of sporting high hat fashion, the garland of roses, and of course, the much adored and beloved Mint Julep.
They'll be serving about 120,000 Mint Juleps at Churchill Downs Racetrack this year. But you don't have to head south to enjoy this classic bourbon treat. We even found a recipe to feature our beloved rhubarb of Minnesota.
Your Triple Crown Worthy Mint Julep Recipes
Mint Julep served at Churchill Downs
2 cups sugar
2 cups water
Sprigs of fresh mint
Crushed ice
Silver Julep Cups (try a lowball glass instead)
Make a simple syrup by boiling sugar and water together for five minutes. Cool and place in a covered container with six or eight sprigs of fresh mint, then refrigerate overnight. Make one julep at a time by filling a julep cup with crushed ice, adding one tablespoon mint syrup and two ounces of Old Forester Kentucky Whisky. Stir rapidly with a spoon to frost the outside of the cup. Garnish with a sprig of fresh mint.
3 fresh mint leaves
1 ounce rhubarb syrup*
2 ounces bourbon
Splash of water
Lots of crushed ice
Muddle the mint leaves with the rhubarb syrup in a cocktail glass. Add the crushed ice (until the glass is mostly full) followed by the bourbon and a splash of water. Garnish with fresh mint sprigs and strips of rhubarb.
*Rhubarb Syrup Ingredients:
Makes about 1 cup of syrup.
2 cups (3-4 stalks) coarsely chopped rhubarb
3/4 cup granulated sugar
2

cups

water

1

cup

sugar

5

to 6 mint leaves

2

family-sized tea bags

3

cups

water

3/4

to 1 cup bourbon

crushed ice

lemon slices

mint sprigs
Bring 2 cups water, sugar, and mint leaves to a boil in a medium saucepan, stirring to dissolve sugar. Remove from heat and add tea bags. Steep for about 5 minutes. Remove tea bags and add 3 cups cold water. Refrigerate until ready to serve. Add bourbon to tea mixture. Fill glasses with crushed ice. Add tea mixture and garnish with lemon and mint. Squeeze lemon into the drink if desired.
Kentucky bourbon
is your best bet for an authentic-tasting Derby weekend. And, we have plenty from which to choose. Stop by or order now online.
We also deliver
.