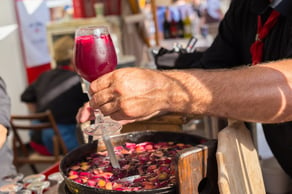 Ponche Navideño literally translates to Christmas Punch. But make no mistake, this classic Mexican hot tropical fruit punch will warm your soul on any cool Minnesota night — by the lake, on the deck or around the bonfire with friends (or in celebration of Cinco De Mayo!). This is a punch. It's meant for a social occasion.
With the abundance of wonderful Mexican supermercados in the Twin Cities, you'll be sure to find what you need at any of these grocery stores. The best part of this punch is that it can be made alcohol free for the kids, and then turned into an adult beverage as you serve. We're told that rum, brandy or tequila all work wonderfully with this punch, so pick your favorite spirit.
Ponche Navideño

Hot Mexican Fruit Punch

This recipe comes from Muy Bueno Cookbook (and it serves 20 people!).

Ingredients:
4 quarts water
2 cinnamon sticks
8 whole cloves
5 long tamarind pods, husk removed and seeded or boil the entire pod to make removing easier
½ pound tejocotes or crab apples, left whole
6 large guavas, peeled and cut into large bite-size chunks
2 red apples (of your choice), peeled, cored, and cut into small bite-size chunks
1 pear, peeled, cored, and cut into small bite-size chunks
2 (4-inch) sugarcane sticks, peeled and cut into small chunks
1 cup pitted prunes
1/2 cup dark raisins
1 orange, sliced
1 cone piloncillo, chopped or 1 cup dark brown sugar
In a large pot over high heat, boil water, cinnamon sticks, cloves, tamarind, and tejocotes. After it starts to boil, lower the heat and simmer for about 10 minutes until the tejocotes are soft. Remove the tejocotes from the heat, peel, remove hard ends, cut in half, and deseed. Return them to the pot. Add guavas, apples, pears, sugar cane, prunes, orange slices, and piloncillo. Simmer for at least 30 minutes, stirring gently. Discard cinnamon sticks and cloves. Ladle into cups, making sure each cup gets some chunks of fruit. Add brandy or tequila to each cup or add to pot prior to serving. (Here's a video with some step-by-step instructions, in case this is a lot to chew!)
What are some of these ingredients?
Piloncillo is unrefined brown sugar from Mexico that comes in a small conical shape. Tecojotes is the fruit of a Mexican hawthorn bush and resembles a small apple or crab apple. As for brandy and tequila, well, you know what those are. But, there is a spirit inspired by Ponche Navideño and it's called Caballero Liqueur.
Caballero Liqueur is the result of a delicate blending of Andalusian oranges, spices, and the finest brandy selection. This highly recommended liqueur is copper in color, and its aromas are described as burnt orange marmalade, cola, ginger candy and floral honey with a soft, sweet, light-to-medium body and a delicate spiced orange gelatin, pepper, and mineral finish.
If you want to spice up your Ponche Navideño with a little Caballero Liqueur, you can find it at Haskell's – either online or in stores. Cheers!