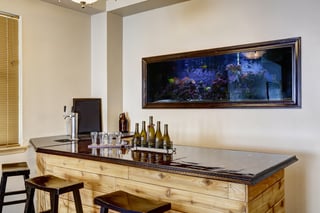 Whether you are planning for a cocktail party or just like to mix yourself a drink after a long day at the office, having a well-stocked home bar is key to ensuring you have what you need to quench your cocktail thirst. By having a good set of basic ingredients and perhaps a couple popular favorites, you'll be able to offer more to entertain and keep everyone happy — as well as yourself. After all, sometimes a beer won't do the trick and a dry martini, shaken not stirred, is the only drink that you want. Here are some tips on how to make a home bar.
Tools of the Trade
Bar set – You don't have to spend a lot of money for barware, but you certainly can. Your basic setup should include a shaker, cocktail strainer, tongs, jigger, and wine and bottle openers. A muddler, whiskey rocks, bar knife, and a bar cutting board will nicely add to your perfect bar.
Glassware – Invest in a few types of cocktail glasses, not to mention wine glasses.
Tumblers ­– A solid, sturdy tumbler is perfect for whiskey on the rocks, or an Old-Fashioned. Keep plenty of these handy for mixed drinks.
Highball glasses – They're taller than your tumbler and perfect for a refreshing cocktail that's heavy on ice, like a vodka tonic.
Martini glasses – Highs stem or low stem, that's an aesthetic question, but having martini glasses will help you and your guests enjoy that carefully crafted martini.
Wine glasses – Whether Reidel wine glasses or something nice from your favorite department store, do invest in a set of good wine glasses.
Bottles to Buy
You don't have to buy out the entire store to have a well-stocked home bar, however, start with the basics and then move on from there. Know your audience. Do you and your guests tend to be vodka, gin, rum, or whiskey drinkers? All of the above or none? With these basics, you can mix up a drink for most.

Vodka – You can pick up a nice bottle of vodka (some are locally crafted) for around $25.
Gin – There are plenty of great gin options for about $25. Keep it local and enjoy Minnesota spirits.
Whiskey – Ryes are very popular and make for a terrific Manhattan.
Scotch – Keep a bottle of blended Scotch, like Dewars, on hand and perhaps a special bottle of your favorite single malt.
Tequila – You never know when the night calls for a margarita. A nice Blanco or Silver tequila (100% agave) is a must.
Vermouth (Sweet and Dry) – One bottle can last a while, so buy now to have it on hand when that martini or Manhattan craving appears.
Bitters – There are many specialty bitters from which to choose, but make sure you have at least one of the basics, like Peychaud's or Angostura on hand.
Mixers – Tonic, club soda, Ginger Ale, and small juice bottles, such as pineapple and tomato, will make your cocktail selections even more complete.
Founded in 1934, Haskell's has championed fine wines for over 80 years. We have 13 wine stores in Minnesota, two delis and one restaurant. As one of the top wine shops in North America, Haskell's is known for legendary service and one of the finest collections of wine, beer and spirits. Led by Chairman and CEO Jack Farrell, and the Farrell family, Haskell's continues to be at the forefront of the wine scene throughout the world. Haskell's also can ship wine, beer & spirits all throughout the world, the U.S. and we deliver locally.