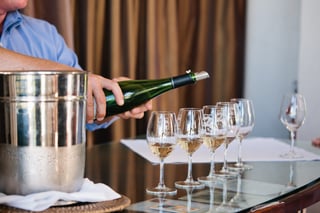 In the mood for a spring fling? How about hosting your own private wine tasting party for some of your closest friends – at least some of your closest wine loving friends. It's a great way to explore new wines, start conversations, and learn something new. You don't have to spend a fortune, be an expert, or invite a crowd – it can be as elaborate or as simple as you'd like it. The most important decision you'll need to make is your invite list: you'll want a small group of friends who enjoy wine and trying new things.
Here's the best part. Our Haskell's wine experts are here to help as part of our concierge services. We can come to your home, you business, or any other venue of your choosing. Whether a house-warming party, wedding, business or pleasure, you and your guests swirl, sip, and enjoy all night long – we'll pop the corks, do the pours, and share our expertise.
Need an idea? Start with a theme:
Pick from a region or a country. For instance, consider wines from Napa Valley, Willamette Valley, or perhaps France, Spain or Italy.
The wine:
Plan on 8 to 10 different wines for the event. For a light tasting, count on half a bottle per person, though you may want to have a few extra depending on your crowd. We are happy to pick – or help you pick – the wine to fit your theme.
Food:
You'll want to be sure your guests have plenty to nibble on while sampling all these great wines. Let the Big Cheese put together a perfect assortment of cheeses, crackers, salamis and other wine-friendly foods. And, we deliver.
Want some more ideas? See what our own Ted Farrell shared recently on Twin Cities Live!
How it works:
Starting at $75 an hour at most metro locations, we'll have an expert help you find the best wines for your event, and make your next event truly a special one. And, if you want to add beer to the mix, we can do that, too. Or spirits. It's your party, so it's your call.
Email service@haskells.com to learn more about our concierge services. We offer full service customized beverage service – for a few or a few hundred of your closest friends.
Founded in 1934, Haskell's has championed fine wines for over 80 years. We have 13 wine stores in Minnesota, two delis and one restaurant. As one of the top wine shops in North America, Haskell's is known for legendary service and one of the finest collections of wine, beer and spirits. Led by Chairman and CEO Jack Farrell, and the Farrell family, Haskell's continues to be at the forefront of the wine scene throughout the world. Haskell's also can ship wine, beer & spirits all throughout the world, the U.S. and we deliver locally.