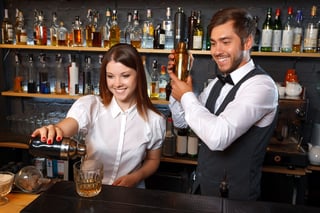 Whether a small event or a big production, you can make your next party hassle-free by hiring somebody else to mix the drinks. Worry about making sure you get face time with your guests rather than worrying about refilling their cocktails.
Not sure if having a bartender is a good idea? Here's why it's smart (and easy) to find a professional bartender for hire for your next party.
Stay on point with a selected cocktail list.
Your bartender can work with you to come up with a signature cocktail or two and keep the party theme flowing.
Keep it clean.
Have you ever gone to refresh a drink at a self-serve bar area only to find there's no ice, and worse yet, your favorite spirit is now an empty bottle? Yes. We hate that too. A bartender can keep the bar area stocked and looking fresh. And keep the limes sliced and the ice cold.
Less is more.
While we don't have a scientific study, we know that guests tend to drink less when served by a bartender. This means you can likely serve better alcohol, and stay on budget as you won't be serving too much, and your guests will likely not over indulge.
Drinking responsibly.
A good bartender is also good at spotting someone underage. You'll have fewer worries about minors obtaining alcohol.
How do you hire? Simple. We've got you covered. Call us at 612-333-2434 x 950 or email us at service@haskells.com.
Another bonus is we can also rent the glassware for you at a reasonable fee, so you don't have to worry about purchasing or borrowing appropriate glasses. We set up, we clean up, and we can arrange the delivery of beverages. Less time spent setting up the party means more time with your guests.