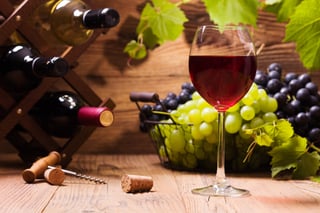 Counting calories? Love to enjoy a glass of wine? No worries. We've got the skinny on which wine has the least calories. First things first: You may be surprised to learn that there is little difference in calories between red and white wines — perhaps five calories per glass more with the red.
It can get confusing – The USDA Nutritional Database shows the average 750 ml bottle of red table wine has 625 calories while an average bottle of white table wine has 603 calories. With more than 1300 types of wine, though, there are some differences. You search the database for nutritional information on different types of wine here.
What You Need to Know
The difference comes down to alcohol content. Here's a good rule of thumb: the higher the alcohol content, the higher the calorie content. 

We've done a little digging and found some help from the folks at Winefolly.com who have done some calculating. Check out their info chart, which beautifully illustrates the caloric content of specific wine varietals.
Two of the light alcohol/dry whites that score lowest on the list are Pinot Grigio and Pinot Blanc.
Low-Cal Wine Brands
A few years ago, a number of low-calorie minded wines hit the market and not all survived. Low-cal wine brands like Skinnygirl and Brancott have done well because their products taste good as well as offering fewer calories.
The bottom line is if you are watching your caloric intake, look for a wine with low alcohol and avoid sweet wine. I don't like this idea, but you can always enjoy a smaller serving size to cut calories as well. You don't have to give up good taste. It's all about moderation and Haskell's supports that.
Founded in 1934, Haskell's has championed fine wines for over 80 years. We have 13 wine stores in Minnesota, two delis and one restaurant. As one of the top wine shops in North America, Haskell's is known for legendary service and one of the finest collections of wine, beer and spirits. Led by Chairman and CEO Jack Farrell, and the Farrell family, Haskell's continues to be at the forefront of the wine scene throughout the world. Haskell's also can ship wine, beer & spirits all throughout the world, the U.S. and we deliver locally.