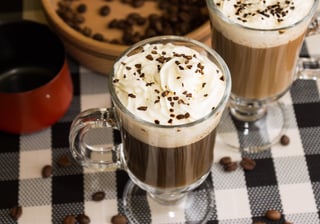 "Cream as rich as an Irish brogue; coffee as strong as a friendly hand; sugar sweet as the tongue of a rogue; and whiskey smooth as the wit of the land." - Joseph Sheridan
You don't have to be Irish to love all that is Irish, especially when it comes to the contemporary classic known as Irish Coffee. So beloved is this hot drink, it has a whole day set aside in its honor — January 25th. And, it conveniently falls mid-week, so make your hump day a little sweeter by serving yourself this little perk-me-up (after work, my friends).
What exactly is Irish Coffee?
You know it has whiskey and it has coffee. If you believe in legends, here's the one that goes with the recipe. It has three main ingredients, er, names to the story. Joseph, Stanton, and Jack.
In 1942, restaurant owner Joe Sheridan came up with the drink to warm-up cold and weary travelers at the Shannon Airport in southwest Ireland. He is said to have served the weary and tired guests hot coffee, spiked with whiskey and topped with whipped cream. The passengers asked if the beverage was Brazilian coffee. Sheridan responded that it was Irish coffee.
International travel writer, Stanton Delaplane, is then said to have brought Irish coffee to the United States after having it at Shannon Airport.
Next stop, San Francisco. According to the cafe, it was November 10, 1952 at the Buena Vista Cafe, that then-owner Jack Koepple challenged Delaplane to help re-create the "highly touted" Irish Coffee.
That's the story, but what's the drink?
What's the best Irish Coffee recipe? We'll stick with the classics. Buena Vista Cafe brews up 2,000 Irish Coffee's a day!

Buena Vista Cafe's Irish Coffee Recipe
Ingredients:

2 sugar cubes

6 ounces brewed coffee (recommended to use a medium-roast)

1 1/3 ounces Tullamore Dew Irish Whiskey

Heavy cream, lightly whipped

Pre-heat a 6-ounce, heatproof glass by filling with hot water. Once warm, empty the glass. Add two sugar cubes to the glass, then pour over coffee until the glass is 3/4 full. Stir thoroughly until the sugar is dissolved. Add 1 1/3 ounces of whiskey to the coffee. Float a layer of whipped cream over the top of the coffee by pouring gently over a spoon.

Tip: Use heavy whipping cream that's lightly whipped in an upright blender (or a smoothie maker).
BONUS: If you are feeling a little bold, try topping your classic Irish Coffee with a couple of toasted marshmallows. We're not sure what the bartenders at Buena Vista Cafe would say, but hey, marshmallows.
At Haskell's, we have a full line-up on fine Irish Whiskey's to help you create the classic Irish Coffee or any version you'd like to explore. After all, it's your cup of Jo and whiskey — and cream.