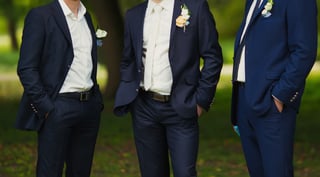 Hey fellows, how do you say thanks to a group of your buddies for standing up with you at the most important day of your life — your wedding? Chances are your pals don't need a set of cufflinks, so why not say thanks to the guys with a groomsmen gift they will really appreciate: beer gift baskets. June is the most popular month for weddings and whether you are going to get married, or be involved in one, here's an idea worth sharing – gift the guys with beer. Sure, we know women love beer too but that's another blog post. This is our list of best beer gift baskets for your best men.
Ready-To-Order Beer Gift Baskets for your Groomsmen Gifts:
Beer gift baskets are easy to put together and a lot of fun for the ones who will soon be able to appreciate them. We have put together some tremendous baskets you can simply order, and we'll do the work of creating craft beer baskets for you:
12 Bottle Craft Beer Basket
18 Bottle Craft Beer Basket
Local breweries are frothing with great beer and lucky for you, we carry a lot of beer so you have a plethora of packs to peruse and purchase for your best men.
Make your own Beer Gift Baskets for Your Groomsmen Gifts:
Make a connection to your past with a present (pardon the pun). Are these your college roommates? Make a beer basket with beer brewed in your college locale. For instance, if you met at the University of Minnesota, make a basket of beer from the Twin Cities like Summit and Fulton. Here's a comprehensive list of Minnesota breweries.
Football: Vikings or Packers? Ok, we won't go there – (Go Vikings) but if there is a fun spirited rivalry, pack a basket with all Minnesota OR all Wisconsin beers.
Beers for all seasons: These guys have been in your life through spring, summer, winter and fall – put together a basket with all types of beer: Ales, Lagers, Stouts/Porters and Malts.
And what about your BEST man? Take it up a notch for the man who has been your best buddy and will be your best man at your wedding with a bottle of single malt Scotch. We can help you with that too.
Stop by your nearest Haskell's location to discuss ideas, and maybe even pick up something for yourself.
Founded in 1934, Haskell's has championed fine wines for over 80 years. We have 13 wine stores in Minnesota, two delis and one restaurant. As one of the top wine shops in North America, Haskell's is known for legendary service and one of the finest collections of wine, beer and spirits. Led by Chairman and CEO Jack Farrell, and the Farrell family, Haskell's continues to be at the forefront of the wine scene throughout the world. Haskell's also can ship wine, beer & spirits all throughout the world, the U.S. and we deliver locally.