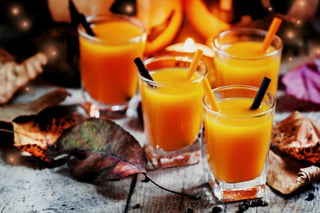 Pumpkin spice. You can eat it, you can drink it, and it is certainly not just for pie and coffee drinks. We have some cocktail ideas that are just perfect for "pumpkin spice season."
Check out these pumpkin cocktail recipes that will have you ready to enjoy the season a whole lot more. You may even want to bring out the 1966 classic, It's the Great Pumpkin, Charlie Brown, and toast the Peanuts gang as they celebrate Halloween. We might not be able to help Linus find the Great Pumpkin, but we can sure help you enjoy watching this American classic with a little Pumpkin classic of your own.
7 Pumpkin Cocktail Recipes to Try
Combine pumpkin puree, bourbon, syrup, Grand Marnier and bitters in a cocktail shaker filled with ice. Shake well, strain into a chilled old-fashioned glass filled with ice. Garnish with a rosemary sprig or orange peel.
On a small plate, whisk together the sugar and pumpkin pie spice. Coat the rim of a margarita glass with orange juice and dip it in the sugar mixture to coat. Set aside. In a cocktail shaker filled with ice, combine the remaining ounce of orange juice, tequila, Cointreau, and pumpkin puree. Cover and shake vigorously. Strain into the prepared margarita glass.
Shake hard and fine strain into a cocktail glass.
For pumpkin seeds: Heat a large heavy skillet over moderate heat until hot. Toast pumpkin seeds, stirring constantly until they expand and begin to pop, 3 to 5 minutes. Transfer seeds to a plate to cool.
For Martini: Mix together in martini glass. Enjoy!
Pour ingredients into a cocktail shaker filled with ice. Shake well. Strain into a chilled cocktail glass. Sprinkle cinnamon on top for garnish.
8 oz. bourbon
9 oz. apple cider
2 1/2 oz. lemon juice
12 oz. pumpkin ale
Garnish: cinnamon sticks and cranberries
In a cocktail shaker, shake together the bourbon, apple cider, and lemon juice. Pour into 4 glasses filled with ice. Pour the beer evenly into each glass. Garnish with cinnamon sticks and cranberries. Serve immediately and enjoy!