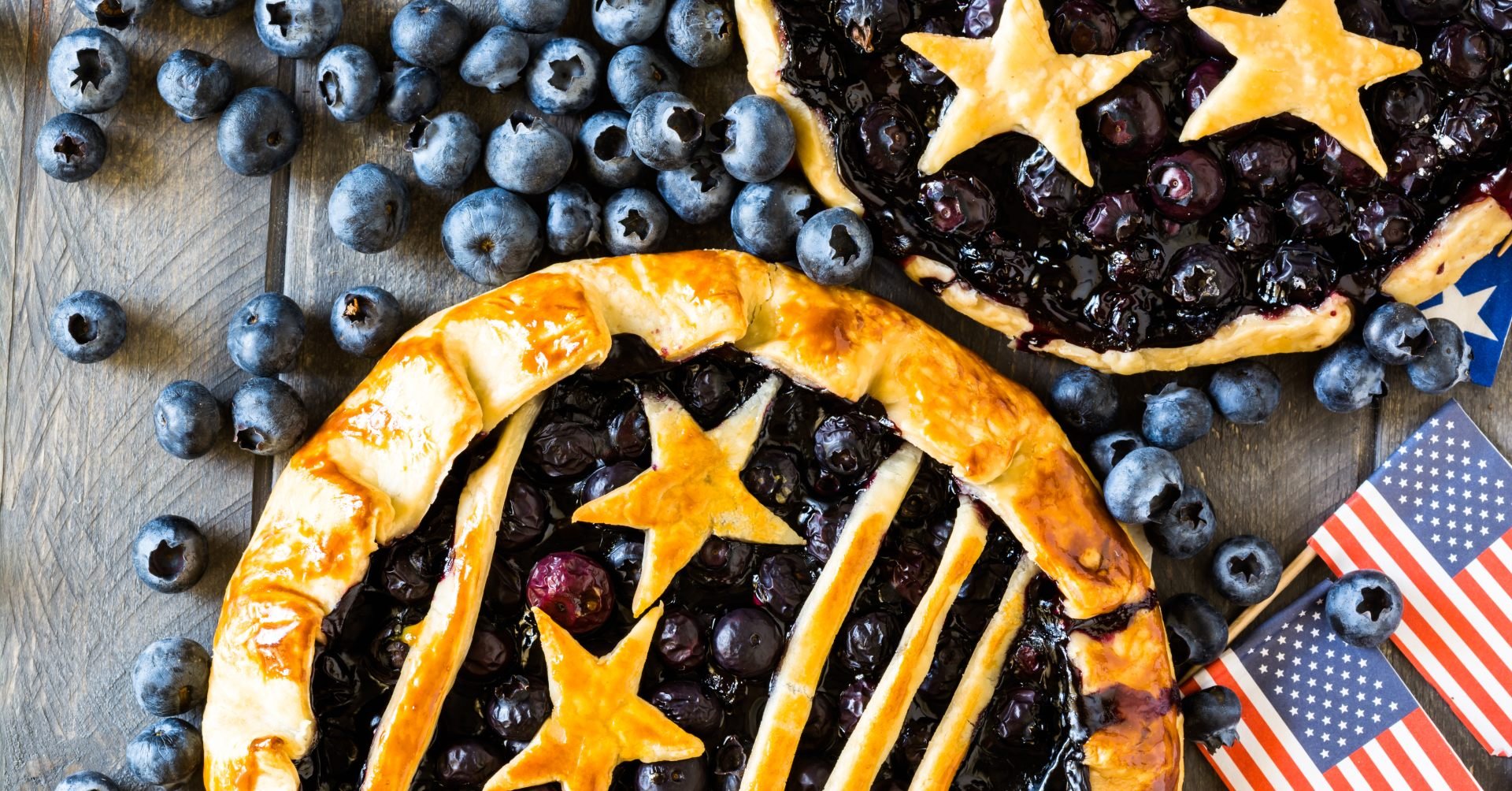 What better way to toast America this Independence Day than with adult beverages crafted with all-American spirits? Kick back with these fun-to-make, delicious-to-drink patriotic cocktails. And if you're not the cocktail type, check out our suggested list of all-American brews towards the bottom!
July 4th Cocktails
Manhattan
Combine ingredients in a cocktail shaker filled with ice. Stir well and strain into a chilled cocktail glass. There are variations.
Mint Julep
10 mint leaves, plus a sprig for garnish
1 1/2 teaspoons superfine sugar
Seltzer water
Crushed ice
2 1/2 ounces bourbon whiskey
Place the mint leaves in the bottom of an old-fashioned glass and top with the sugar. Muddle these together until the leaves begin to break down. Add a splash of seltzer water, fill the glass 3/4 full with crushed ice, and add the bourbon. Top with another splash of seltzer, stir, and garnish with a sprig of mint. Serve immediately.
Cape Codder
1 1/2 ounces vodka
4 ounces cranberry juice
Lime, for garnish
Combine in a highball (tall) glass with ice. Garnish with lime.
American Beauty
Make it Minnesotan with a locally-produced gin.
3 parts 100 Mill Street Gin
1½ parts lemon juice
1 part sugar syrup
3 pieces raspberry
3 pieces blueberry
6 pieces mint leaves
Ice
Add raspberry, mint leaves, lemon juice, and blueberry to the shaker. Crush raspberry, mint leaves, lemon juice, and blueberry with muddler. Add sugar syrup, ice and gin to shaker and shake well. Strain into the old fashioned glass, garnish with lemon spiral.
Patriotic Mojito Cocktail
2 oz. white rum
1 oz. fresh lime juice
1 oz. simple syrup
10 mint leaves
3 strawberries
15 blueberries
1 package silver edible glitter stars (optional)
In a glass, muddle lime juice, simple syrup, mint, 2 strawberries, and 10 blueberries. Add rum and stir. Fill glass with ice and top off with club soda. Garnish with a skewer of sliced strawberry and 5 blueberries. Sprinkle edible glitter stars on top.
Red, White, and Blue Sangria
Whip up a batch of this sangria and serve with a spring of mint.
Strawberries, sliced
Blueberries
Pineapple, cut into star shapes
2 bottles La Gondola Pinot Grigio
1 cup Triple Sec
1/2 cup berry-flavored vodka
1/2 cup fresh lemon juice
1/2 cup simple syrup
Combine the ingredients in a large pitcher and stir. Chill in the refrigerator for at least four hours.
Sparkling Wine with Berries
Sparkling wine, champagne or Prosecco
Strawberries, sliced
Fresh blueberries
Pour your bubbles in a champagne flute, add a few strawberries and blueberries, and there you have it. Keep it cool, classic and classy.
Watermelon Tequila Cocktail
You have to hand it to Bobby Flay for coming up with this thirst-quenching adult beverage. You'll need some kitchen time for this, but it's a perfect summer cocktail to help you beat the heat with some sweetness.
1/4 cup water
1/4 cup granulated sugar
8 cups diced seedless watermelon (1 pound)
1/4 cup fresh lime juice
1 3/4 cups blueberries
3/4 cup lightly packed fresh mint leaves, plus 8 sprigs for garnish
1 1/4 cups Vizon silver tequila
Ice
In a small saucepan, bring the water to a simmer with the sugar and stir over moderate heat until the sugar is dissolved, about 1 minute. Let the sugar syrup cool. In a blender, puree the watermelon until smooth. Set a fine-mesh strainer over a bowl and strain the watermelon juice, pressing gently on the solids to extract as much juice as possible. Discard the pulp. In a large pitcher, combine the sugar syrup with the lime juice, blueberries and mint leaves. Using a wooden spoon, lightly muddle the blueberries and mint. Add the watermelon juice and tequila. Refrigerate until chilled, about 2 hours. Pour the cocktail into tall ice-filled glasses. Garnish with the mint sprigs and serve.
Bonus Kid's Cocktail: Firecracker Punch
A punch for all ages by Betty Crocker. You can take it up a notch by adding your favorite locally-crafted vodka for an adult version.
1 cup red cinnamon candies
4 cups water
1 can (6 ounces) frozen lemonade concentrate, thawed
1/3 cup frozen (thawed) orange juice concentrate (from 6-ounce can)
1 bottle (1 liter) ginger ale
6 orange slices, cut in half
In a quart saucepan, cook cinnamon candies and 1 cup of the water over medium-high heat, stirring frequently, until candies are melted; remove from heat. Cool completely, about 30 minutes. In large punch bowl, stir candy mixture, remaining 3 cups water, the lemonade and orange juice concentrates, until well mixed. Refrigerate until ready to serve. Just before serving, gently stir in ginger ale. Garnish with orange slices.
All-American Beers for July 4th
Here's a rundown of some beers that pay homage to the American spirit. Try these refreshing brews for regular people kicking their feet up after putting in good, hard work.
The story behind this brew makes it perfect for celebrating a historic occasion like Independence Day. Born at the tail end of the 1800s, Anchor Steam Beer gained a foothold in its hometown of San Francisco. It nearly closed in the 1960s, but it revived and recently relaunched this staple Anchor California Lager. An American story of perseverence and reinvention worth a toast.
Brooklyn Brewery's Amber Lager isn't just a New York staple and a national favorite. It's been one of the most successful American craft beer exporters, and the world loves their balanced brews. The USA's international reputation is safe in their hands.
Sierra Nevada Pale Ale or 5. Torpedo Extra IPA
Hops are grown in several places around the world, but some of the most prominent types grew right here in the U.S. (thanks, Oregon and Washington, for Cascade, Citra, and Centennial hops). Be sure to honor this fine, piney, citrusy tradition by picking up a classic American option like Sierra Nevada Brewing Company's Pale Ale or Torpedo Extra IPA if you want a dank and lively beer.
Samuel Adams Boston Lager or Rebel IPA
This list would be incomplete, of course, without Samuel Adams, the patriotically-named golden child of Boston Beer Company. Hailed as pioneers in the modern craft beer movement, they've had to learn to share the stage with a lot of other brands since the 1980s. But their regular lineup, with a mixture of styles developed along the way, has kept them a sturdy presence in the American beer market. Go with classic Boston Lager or a vivacious West Coast-style Rebel IPA.
Which will you drink? Are you going to whip up some cocktail recipes or would you prefer to grab a cold one? Shop Haskell's and our knowledgeable staff will help you find the best options for your patriotic drink menu.