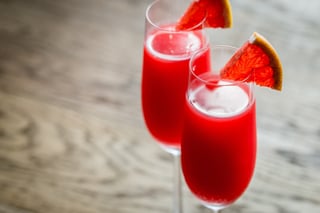 Weekends are made for mimosas — champagne and citrus served up on with a side of cheer. While good ole orange juice is always a great way to brighten your day with a dose of vitamin C, why not branch out for your next round of mimosas with these three extra-ordinary versions on the classic? Try these. They're perfect for summer brunch gatherings with friends, or just the two of you. Cheers!
The mixers?
Agave nectar
Grapefruit soda
Pineapple juice
Now you're ready for some memorable mimosas.
Watermelon Agua Fresca Mimosas
1 small watermelon, peeled and cubed (to yield about 6 cups watermelon cubes)
Juice of 2 small limes
2 tbsp agave nectar (optional)
1 (750 ml) bottle dry sparkling wine, chilled
Purée the watermelon cubes in a blender or food processor until smooth. Strain the watermelon using a fine-mesh strainer or cheesecloth. Add the lime juice and, if desired, the agave nectar. Mix the watermelon agua fresca with the champagne. Start with roughly equal parts of agua fresca to champagne, then tweak to your taste.
1/2 medium honeydew melon (about 4 cups), cubed
1 cup crushed ice
1 tablespoon sugar
1 (750 ml) bottle sparkling wine, chilled
Garnishes: lime wedges
Combine first 3 ingredients in a blender. Process until smooth. Pour mixture into a large pitcher; add sparkling wine. Pour into glasses. Garnish, if desired.
Grapefruit Mimosas for a crowd
3 cups unsweetened grapefruit juice, chilled

1 (750 ml) bottle dry sparkling wine, chilled

8 to 10 kumquats
Fill a champagne coupe or flute about 1/2 full with grapefruit juice, then top off with dry sparkling wine and stir lightly. Make a slit lengthwise in a kumquat and slide it on the edge of the glass. Serve (and sip) immediately.
Bonus Mimosa (with a Tequila Twist)
When you need a little more to kick start in your morning, and the pleasantries of bubbles just won't do, we feel you.