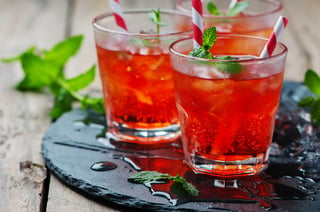 Chances are you've seen the iconic posters and perhaps a bottle sitting in your parents' cupboard. This classic Italian aperitif is known for its bright red color and bitter, yet spicy sweet flavor. At one point, Campari actually used crushed insects for its coloring, but those days are in the past. Now, cocktails with Campari are considered a stylish and sophisticated. Campari isn't for everybody, but it could be for you.
What is Campari?
It was invented in 1860 by Gaspare Campari, and to this day, it's said only three people in the world know the secret formula for this Italian favorite. We may not know the secret recipe, but we know Campari is comprised of herbs, aromatics, alcohol and water, and a cult-like fan base world over – especially throughout Italy. Campari is beloved in Milan, and it's no wonder that Campari and fashion have a passionate, even sexy, relationship.
Two simple ways to enjoy Campari are simply "on the rocks" or with a splash of soda, but for the adventurous, here are five easy recipes for cocktails with Campari that you'll love:
Negroni
Ingredients:

1 ounce gin
1 ounce sweet vermouth
1 ounce Campari
Orange twist, for garnishing
Pour the gin, vermouth, and Campari into a chilled Old Fashioned glass over ice. Garnish with the orange twist and serve.
Campari & IPA Spritzer
Ingredients:
1 1/2 ounces Campari
1/2 bottle (6 ounces) IPA beer
Lemon twist, to garnish (optional)
Fill a glass with ice. Add Campari. Slowly pour in the beer. If garnishing with the lemon, squeeze the lemon peel over the drink to release the oils, and rub around the rim of the glass. Drop the garnish into the glass and serve.
Campari Cocktail
Ingredients:
NOT the coffee drink, folks!
Ingredients:
1 1/2 ounces Campari
1 1/2 ounces sweet vermouth
2 to 3 ounces club soda
Garnish: orange wheel
Pour Campari and vermouth into an ice-filled highball glass; top with club soda. Garnish with an orange wheel.
Ingredients:
2 tablespoons simple syrup
1/4 cup fresh orange juice
1 ounce Campari
Ice
Seltzer
Combine simple syrup, orange juice, and Campari over ice. Top with seltzer.
Fun fact: It's said that the largest per capita consumption of Campari is on the Caribeaan Island of St. Lucia where they drink it with condensed milk. Who knew?
Founded in 1934, Haskell's has championed fine wines for over 80 years. We have 13 wine stores in Minnesota, two delis and one restaurant. As one of the top wine shops in North America, Haskell's is known for legendary service and one of the finest collections of wine, beer and spirits. Led by Chairman and CEO Jack Farrell, and the Farrell family, Haskell's continues to be at the forefront of the wine scene throughout the world. Haskell's also can ship wine, beer & spirits all throughout the world, the U.S. and we deliver locally.