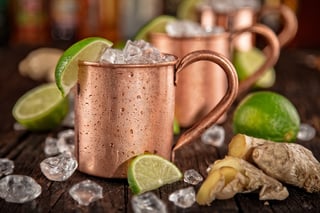 If you haven't yet indulged, chances are pretty high that you've seen the vodka and ginger beer cocktail served in copper mugs that people are raving about.
Like most good things, what's new is old. The Moscow Mule gained popularity back 1940s, as legend goes, thanks to three guys with business woes and lots of inventory of vodka, ginger beer, copper mugs. To make it work, add a little bit of Hollywood.
Moscow - refers to Russian Vodka which at the time was very unpopular
Mule (also referred to as buck) - that's the kick from the spicy ginger beer
And, the copper mug? Always the copper mug.
So, if the "mule" refers to the ginger beer, just think of the great variations of the cocktail. Let's start with the classic recipe and venture off to a few thirst-quenching refreshing variations.
Classic Moscow Mule
1 half lime
2 ounces vodka
4 to 6 ounces ginger beer
Squeeze lime into copper mug and drop in half lime. Add 2 or 3 large ice cubes, then pour in the vodka and fill with cold ginger beer. Serve with a stirring rod.
Mexican Mule
2 parts Tequila (Blanco)
0.5 part Lime Juice
ginger beer
Add ingredients to mixing glass, then add ice. Shake and strain into a mule mug or rocks glass. Top with ginger beer. Garnish with lime wheel or wedge.
Glasgow Mule
Fill a copper mug or Collins glass with medium ice cubes. Add Scotch, lime juice, elderflower liqueur and bitters. Top with ginger beer; stir gently with a long-handled bar spoon to mix. Click here for the full recipe.
London Mule
Fill a highball glass with ice. Pour in gin and lime juice. Fill-up the glass with ginger beer. Garnish with a lime wedge. Click here for the full recipe.
Garden Mule
4 slices cucumber
16 blueberries, divided
6 mint leaves, plus sprig for garnish
2 ounces vodka
1 ounce lime juice
1/2 cup ginger beer (preferably Fever Tree or Maine Root—something spicy and not too sweet)
1 piece candied ginger, for garnish
Put the cucumber, 8 blueberries, and mint leaves in the bottom of a cocktail shaker. Muddle until crushed and juicy. Add a handful of ice, vodka, and lime juice. Cover the shaker and shake for about 15 seconds. Fill a Moscow Mule mug with ice. Strain the liquid from the shaker into the mug. Top with ginger beer and 4 blueberries. Thread 4 remaining blueberries and candied ginger on a toothpick and use to garnish with a sprig of mint. Click here for the full recipe.
Making the Mule
If you're looking for a little guidance in making your mule, we can help with that, too. Check out our video, The Best Moscow Mule Recipe to Make at Home [VIDEO].
No matter which recipe you choose, you can always find your 21+ ingredients at your local Haskell's or by shopping Haskell's wide online selection – and yes, we deliver!