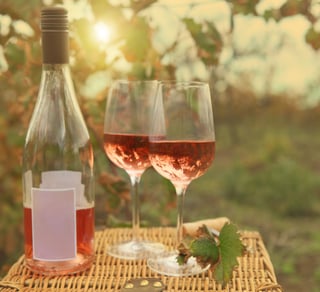 Do you have your favorite bottle of wine ready to partake in National Drink Wine Day on Thursday, February 18? If not, we can help you with that.
Coincidentally, (or not), February is Heart Health Awareness Month. There have been numerous studies showing evidence that drinking a moderate amount of wine has health benefits. It's science. 

Minnesota's own Mayo Clinic says, "Red wine's potential heart-healthy benefits look promising. Those who drink moderate amounts of alcohol, including red wine, seem to have a lower risk of heart disease." The key word, of course, is moderation, but here are some suggestions for you to enjoy on National Drink Wine Day.
What to Drink: A Red, a White, and a Bubbly to Consider.
Henri de Villamont Gevrey-Chambertin
From eastern France comes this beautiful Pinot Noir. Grill salmon, open this bottle, and savor.
Hartford Court 'Four Hearts' Chardonnay
Have a heart and consider this Chardonnay out of the Russian River Valley in California. Robert Parker called it "stunning." We say try it, you'll love it.
Perrier Jouet 'Fleur de Champagne' Brut
Make it an extra special Thursday evening with a special bottle of bubbly. This lighter-bodied champagne calls for a roaring fire, crystal flutes for two, and your phone on "silent."
Of course, there are hundreds if not thousands of wines from which to choose. Let us know what you like, and we'll happily pair you with your perfect match to enjoy wine on any day of the week.
Founded in 1934, Haskell's has championed fine wines for over 80 years. We have 13 wine stores in Minnesota, two delis and one restaurant. As one of the top wine shops in North America, Haskell's is known for legendary service and one of the finest collections of wine, beer and spirits. Led by Chairman and CEO Jack Farrell, and the Farrell family, Haskell's continues to be at the forefront of the wine scene throughout the world. Haskell's also can ship wine, beer & spirits all throughout the world, the U.S. and we deliver locally.