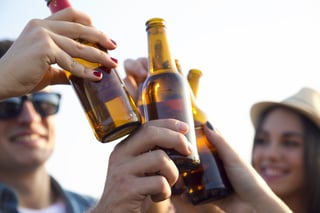 Can you buy beer online? You sure can, and you can do it right here at Haskells.com. We could end right there, but that doesn't answer questions about dates, states, and delivery. And, of course, you need to be 21 years of age.
Why would you want to buy beer online? First, because you can. Second, because it can save you time.
There will be plenty of times you'll wish you had thought ahead and made an order of your favorite brew. Consider being up at the cabin and you are down to your last six-pack of your hard cider or India Pale Ale and the local liquor store doesn't carry what you drink. We've got you covered.
Or, perhaps you have a family gathering coming up and you want a variety of the best brews available and don't have time to shop. We've got you covered.
Or, perhaps you simply hate the idea of getting back in your car after a long day at work. Yes, we've got that covered, too.
What you need to know about ordering beer online:
You can order beer online any day of the week, right in your pajamas from your living room. Haskell's cannot deliver alcoholic beverages on Sunday with our trucks due to state laws, but those other six days a week; we are delivering from our stores to your address.
How to order beer online in 6 steps or less:
Go to our website: www.haskells.com
Click on BEER on the home page OR use Search to find your beer
Click ADD to cart
When done shopping, click on the Shopping cart in upper right-hand corner
Finish filling out payment and address
Viola! You are done.
Outside the Twin Cities Metro:
When we ship outside the Twin Cities metro area, we use FedEx exclusively. They only deliver Monday thru Friday with special residential delivery exceptions on Saturday. FedEx also does not deliver on Sunday. FedEx guarantees ground shipments to get to their destination within five business days. Typically, we try to ship on Mondays to ensure products don't sit in a warm truck or warm facility over the weekend.
Outside of Minnesota:
Different states have different laws, but we are allowed to sell beer online and deliver to the following states:

Alaska
Arizona
California
Colorado
Connecticut
District of Columbia
Florida
Georgia
Hawaii
Idaho
Illinois
Indiana
Kansas
Louisiana
Maine
Minnesota
Missouri
Nebraska
Nevada
New Mexico
New York
North Carolina
Ohio
Oregon
South Carolina
South Dakota
Tennessee
Vermont
Virginia
Washington
West Virginia
Wisconsin
Wyoming
And, if you really just want to come to a store and peruse the coolers, we are ready to help you at any of our locations. Find them here.