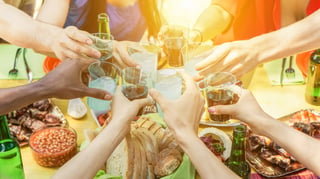 A trick for keeping your backyard barbecue a success is making it all (seem) simple. You've got your brats and hots, burgers and buns, and potato salad for days. But how about your drinks? Be the backyard bartender of the year with a few easy-to-make in quantity BBQ cocktails.
Our 7 Favorite BBQ Cocktails
Limoncello Collins (serves 8)
Pour the Limoncello, Gin and lemon juice into a pitcher. Cover and refrigerate for at least a couple of hours. To pre-garnish the glasses, press three very thin lemon slices against the inside of each glass, add ice, and put in the refrigerator. When you're ready to pour, get out the pitcher and glasses. Give the pitcher contents a stir and fill each glass about 3/4 of the way. Add about 2 ounces of club soda and top with a mint sprig.
Sidecar Punch (serves 10)
Combine the cognac, orange liqueur, lemon juice, and 1 cup filtered water in a pitcher or large bowl. Cover and chill for at least 2 hours or overnight. Sprinkle the sugar on a small plate. Rub the rims of 10 punch or cocktail glasses with lemon juice and dip in sugar. Ladle the punch into the glasses and serve.
Ginger Beer Party Punch (serves 6-8)
Mix all ingredients in a large (4 quart) drink container. Stir to combine. Server over ice garnished with lemon and lime slices. Double recipe if serving a large crowd.
Pineapple Party Punch (serves 8-10)
Pour pineapple juice, rum, and posecco into a pitcher. Add frozen pineapple to keep it chilled. Serve the same day it's made. Non-Alcoholic Version: skip the rum and prosecco. Use lemon-lime soda (regular or diet) or club soda instead.
Pour Campari, Vermouth, and Prosecco into a serving bowl over a hefty block of ice; serve with big ice cubes.
In a punch bowl, combine the bourbon, vermouth, lemon juice and syrup. Add the ginger beer and lemon slices and serve over ice
Ruben's Cooler No. 2
(serves 8)
2 cups thinly sliced unpeeled cucumber
2 1/2 cups 100 Mill Street Gin
1 1/4 cups St-Germain liqueur
1 cup fresh lemon juice
1 teaspoon kosher salt
1 1/2 cups club soda
Line a large rimmed baking sheet with parchment paper. Arrange cucumber slices in single layer on prepared sheet. Freeze until solid, about 1 hour. (This step can be done a couple days ahead of time, too.) Then, combine gin, liqueur, lemon juice, salt, and 2 cups of ice in a large pitcher. Cover and refrigerate until chilled, about 2 hours. Stir club soda and frozen cucumber slices into pitcher. Fill 12-ounce highball glasses with ice. Pour cocktail into glasses and serve.
Ready to start mixing? Many of your must-have ingredients can be found at any of our 11 Haskell's locations, or by shopping online. And yes, we deliver!