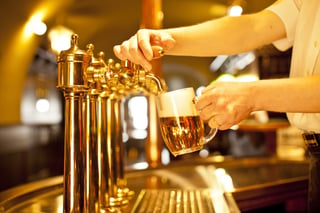 Are you a Cicerone or a Cerevisaphile? If you are a server of beer or a lover and aficionado, you are indeed. Imbiber, beer connoisseur, beer geek, devotee, or enthusiast — whatever term you choose to use, we know you want to keep up with what's brewing in the beer world, read what industry insiders are saying about your favorite beverage, or check out the latest trends before your friends. We've done the research so you don't have to, and have come up with a 12-pack of blogs that deliver beer news daily and sites to check out. Most of the newsletters are free, but some are not. Take a look and see what's hopping. You'll want to bookmark this blog, that's for sure.
Minnesota Beer – Your guide to all things that make up Minnesota beer
The Growler – Minnesota's Craft Beer Lifestyle magazine, focusing on craft beer and the community and culture surrounding it – and it's free.
Beer Pulse – A top daily craft beer news website for both beer drinkers and industry members
Brewbound – An insider daily newsletter offering breaking craft beer industry news, feature stories, and job listings from growing breweries
Beer Business Daily – Industry insider daily newsletter featuring edited beer industry news every day, and cutting-edge marketing, consumer, and branding information on how to become a more productive beer industry professional.
Beverage Daily – A free daily newsletter offering breaking news on the beverage industry in Europe.
Shanken News Daily – A daily email news service covering the global spirits, wine, and beer business.
The Drinks Business – Latest drinks industry news from the last 24 hours, as well as a selection of events, jobs, industry photos and other items we think you'll find interesting.
All About Beer – Beer magazine dedicated to covering the people, places, news, trends, and events that define the beer community.
The Full Pint – Craft beer news, reviews and event coverage updated multiple times daily for the beer enthusiast thirsty for the latest in brew news.
Beer Advocate – Monthly magazine that covers beer from every angle: culture, cuisine, homebrewing, history, science, business, travel, and more.
Craft Beer – Often updated website dedicated to American craft beers
Do you have other newsletters or websites that you enjoy visiting to get your daily service of beer news? Please share your favorites.
Founded in 1934, Haskell's has championed fine wines for over 80 years. We have 13 wine stores in Minnesota, two delis and one restaurant. As one of the top wine shops in North America, Haskell's is known for legendary service and one of the finest collections of wine, beer and spirits. Led by Chairman and CEO Jack Farrell, and the Farrell family, Haskell's continues to be at the forefront of the wine scene throughout the world. Haskell's also can ship wine, beer & spirits all throughout the world, the U.S. and we deliver locally.