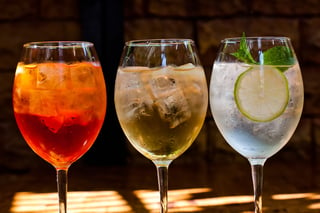 The dog days of summer can conjure images of lazy days sipping cocktails on the patio. Why imagine it when you can live it? Whether it's your patio, porch, deck or spot by the lake, we've come up with a few ways to help keep you cool this summer with delicious wine cocktails.
Whipping up a wine cocktail is a great way to use leftover wine – if that's an issue – and a fun way to add a little pizzazz to your house red or white. An advantage of a wine-based cocktail is they tend to have lower alcohol content, which may be perfect for that Sunday brunch.
5 Sexy Wine Cocktail Recipes to Make your Tastebuds Dance
The Calimocho or (Kalimotxo)
Enjoy this popular and refreshing Spanish wine cocktail. Calimocho originated in the Basque region of Spain but has spread throughout the entire country. It is traditionally made with Coca-Cola, but you can use any cola.
Ingredients:
One part red wine
One part cola
Shake wine and cola in a covered container. Let rest for a few minutes before serving in glasses over ice.
Blood Orange Rosemary Fizz
2 oz. fresh blood orange or pink grapefruit juice
1/2 oz. rosemary simple syrup
2 oz. Prosecco
1 blood orange wheel, for garnish
1 rosemary sprig, for garnish
Fill a cocktail shaker with ice. Add the blood orange juice, Aperol, and rosemary simple syrup. Shake well and strain into a Champagne coupe or flute. Top with the Prosecco, and garnish with the blood orange wheel and rosemary sprig.
Cabernet Cobbler
4 oz. chilled Cabernet Sauvignon
1 tsp. fresh lemon juice
1 tsp. superfine sugar
2 oz. chilled soda water
Dissolve the sugar in the lemon juice and the water in a large wine glass. Add cracked ice and pour the Cabernet Sauvignon wine. Stir gently. Garnish with an orange slice, and serve.
Italian Samurai
1 oz. amaretto almond liqueur
4 oz. sake rice wine
2 oz. sweet vermouth
Fill glass halfway with ice. Add ingredients. Stir.
St-Germain Cocktail
Ingredients:
Add 3 ingredients to ice filled Collins glass. Stir well, mixing completely.
Want more recipes? Check out the new recipe section of our website which is loaded with wine, cocktail and food recipes from Absinthe to Zinfandel.